'Pawn Stars' Guy Tells Fox News That It's 'Morally Wrong' to Investigate Paul Manafort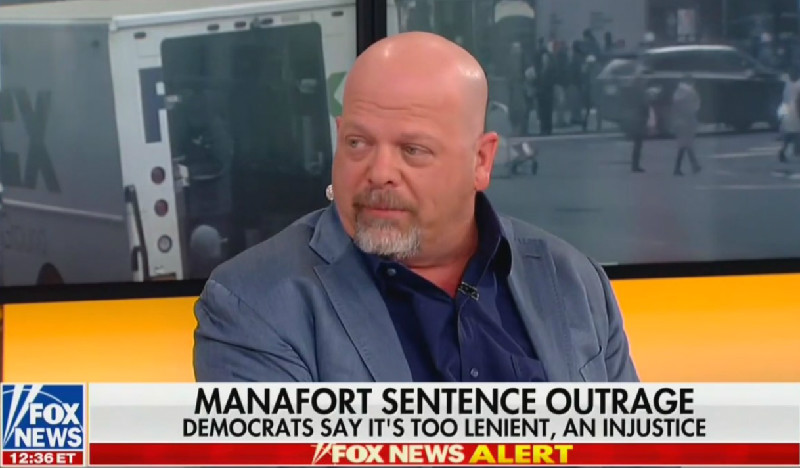 A day after President Trump's former campaign chief was sentenced to 47 months in prison for fraud, Fox News turned to an expert to weigh in on the issue: Rick Harrison, star of reality show Pawn Stars.
Appearing as Outnumbered's #OneLuckyGuy on Friday, Harrison was asked to give his thoughts on the Manafort sentence, which was sharply reduced from sentencing guidelines of 19 to 24 years as Judge T.S. Ellis felt the one-time "torturer's lobbyist" led essentially a "blameless life."
"I think — he did some bad things he should go to prison for," Harrison asserted. "But I think he should get a reduced sentence. Because it's basically wrong to find a person, let's investigate him and we'll find a crime. That's what happened to him."
As co-host Kennedy agreed with him, Harrison added that it is "morally wrong to pick somebody out and say, 'I'm going to investigate him.'"
Lone liberal panelist Jessica Tarlov pointed out that Manafort wasn't just "somebody" but was, in fact, Trump's former campaign chair and had been involved with sharing polling date with the Russians.
"He was related to the probe for good reason," she added.
Harrison, meanwhile, took the opportunity to engage in some good ol' fashioned whataboutism, claiming that it's documented that the United States has "interfered with over 100 foreign elections."
"So it's cool what Russia did?" Tarlov pointedly asked.
"No, it's not cool, but we do the same thing," Harrison retorted.
As Tarlov sat in amazement, the rest of the panel quickly moved on, awkwardly laughing while host Melissa Francis noted that it is International Women's Day.
Watch the clip above, via Fox News.