Trump's Itchy Twitter Finger May Have Just Gotten Him to Admit He Obstructed Justice with Cohen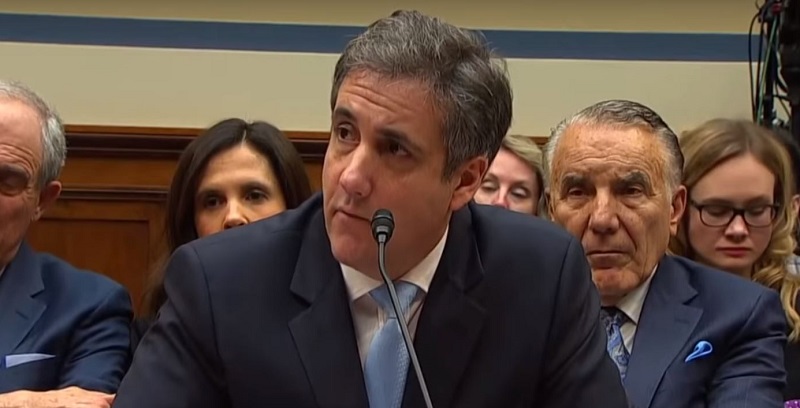 Did President Trump just admit to discussing a pardon for Michael Cohen with his disgraced fixer?
On Friday, Trump tweeted this rant while on his way to Alabama to view tornado damage:
Bad lawyer and fraudster Michael Cohen said under sworn testimony that he never asked for a Pardon. His lawyers totally contradicted him. He lied! Additionally, he directly asked me for a pardon. I said NO. He lied again! He also badly wanted to work at the White House. He lied!

— Donald J. Trump (@realDonaldTrump) March 8, 2019
During his testimony to the House Oversight Committee at the end of February, Cohen said he never asked Trump for a pardon after the FBI raided his office and began criminal proceedings against him in April of 2018.
This week, Cohen's lawyer, Lanny Davis, released a statement admitting that Cohen had authorized his previous defense team to inquire about the chances of a pardon in the two months or so after that raid. During those two months, Cohen was publicly saying he would never testify against Trump. We also learned this week that in those two months, he was allegedly approached by two lawyers who claimed to be associates of Rudy Giuliani and who wanted to convince Cohen to stay in the joint defense agreement his attorneys had struck with the president's team
Then in mid-June Cohen reversed course and struck a plea deal with prosecutors.
So what changed his mind?
Recall that in his congressional testimony, Cohen said the last time he spoke to President Trump at all had been "within two months" of the FBI raid. He added that the topic of that conversation is now under investigation by the Southern District of New York.
Meanwhile, Trump in his tweet said that Cohen "directly" asked him for a pardon. As noted by Natasha Bertrand of The Atlantic, this is an admission by Trump that he had been discussing a pardon with Cohen.
Based on this evidence, it would seem that the conversation the SDNY is investigating involved Trump possibly dangling a pardon for Cohen in exchange for his continued silence on whatever crimes he may have knowledge of the president committing. The crux of it is whether Trump offered the pardon, or Cohen himself raised the possibility. If the answer is the former, the question becomes whether such an offer rises to an indictable obstruction of justice offense.
Obviously, this is still murky. But there are three important points. The first is that Trump just admitted to having a conversation with Cohen about a pardon. This naturally puts scrutiny on the possibility that Trump committed an impeachable offense by offering Cohen a pardon during that discussion.
The second point is that Cohen has been known to record conversations with Trump. It would have been even more important for him to do so after the FBI raid, when his entire future was on the line.
The third point is that if Trump offered Cohen a pardon, what convinced Cohen to not accept it, and to take a plea deal instead?
Whatever the unanswered questions, what we know is that Cohen had this conversation with the president in the two months after the raid, we know the SDNY is investigating something about that conversation, and we know Trump just admitted he and Cohen discussed his issuing his former lawyer a pardon sometime in those two months, before they stopped communicating.
Somewhere, Trump's lawyers must be grinding their teeth into nubs.