Tucker Carlson Claims CNN 'Relentlessly' Attacks Fox News, Immediately Calls Brian Stelter a 'Eunuch'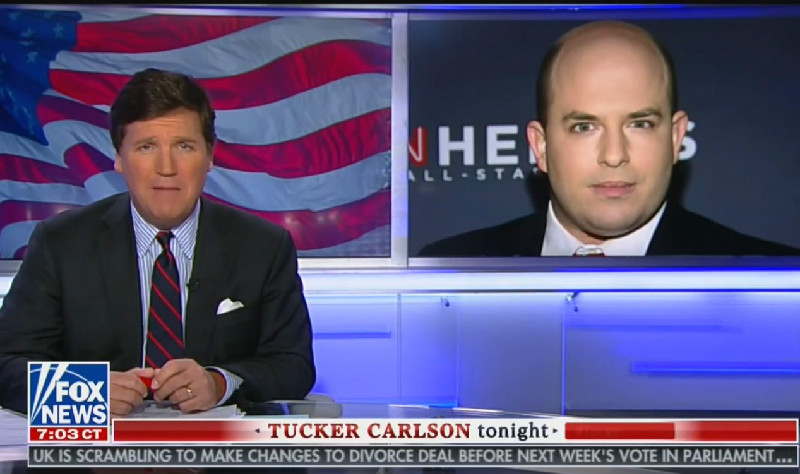 Rather than focus on the breaking news that former Trump campaign chief Paul Manafort had been sentenced to 47 months in jail, Fox News host Tucker Carlson began his Thursday night broadcast by spinning a tale that CNN was applauding the Democratic National Committee's decision to exclude Fox News from their 2020 primary debates because CNN is part of a far-reaching left-wing plot to "crush dissent."
At the start of his rant, Carlson complained that "as an organization, CNN has relentlessly attacked Fox News over the years." While one can argue whether or not CNN "relentlessly" attacks Fox, it does come across as a bit disingenuous that anyone from Fox News, let alone Tucker, would criticize anyone for media attacks considering how much airtime Fox personalities devote to hammering the media. Especially when you take into account the rest of Carlson's monologue.
After patting himself on the back for standing up for CNN reporter Kaitlan Collins — a former employee of his — when the White House briefly barred her from an event, Carlson noted that Fox News management expressed support for CNN correspondent Jim Acosta following the White House's ban of him.
"Jim Acosta is not a great person. He is awful," the Fox News host said less than a minute after complaining about CNN's attacks on Fox. "Ask anyone who knows him. Still, Fox News stuck to principle. Even awful people ought to be allowed to cover the White House."
Not done by a long shot, Carlson focused his aim on CNN senior media correspondent Brian Stelter, who rightfully noted after the DNC decision that it would be surprising for the committee to offer the network a debate since "Democrats are dehumanized" on Fox News primetime. Claiming that CNN president Jeff Zucker is in lockstep with DNC chairman Tom Perez, Tucker said that Zucker sent out his "creep little spokesman to deliver the party line."
After playing a clip of Stelter stating that Fox hosts repeatedly demonize Democratic politicians, Carlson mockingly cried: "'They criticized Nancy Pelosi,' screams the eunuch. That's not allowed! They must be excluded!"
Yep. That's right. He just said Stelter had his balls removed via castration, all while posting an unflattering photo of the CNN host.
Anyway, if you want to see the rest of Carlson's intellectually dishonest and conspiratorial rambling, check out the video at the top of the post.