CNN's Stelter: DNC Rejecting Fox News Debate Unsurprising Since 'Democrats Are Dehumanized' By Network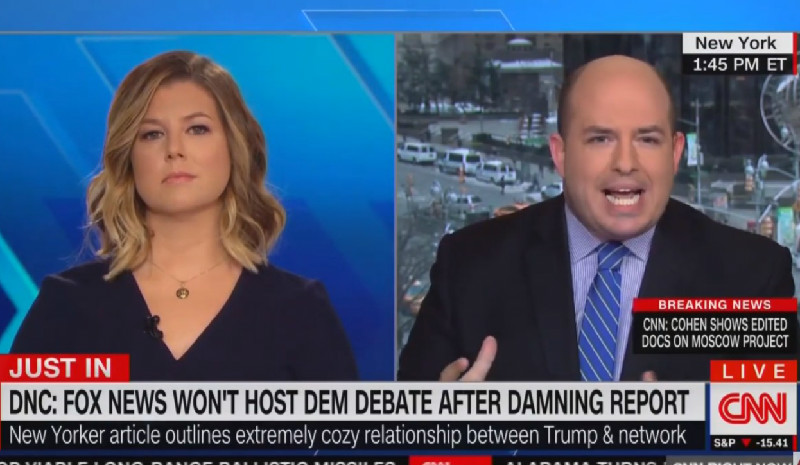 Days after the New Yorker released a comprehensive expose on Fox News' shift to being a full-fledged propaganda outlet for the Trump administration, the Democratic National Committee announced that it had decided to reject the network as a possible television partner for one of the party's 2020 primary presidential debates.
In a statement given to the Washington Post, DNC chairman Tom Perez said that "reporting in the New Yorker on the inappropriate relationship between President Trump, his administration and Fox News has led me to conclude that the network is not in a position to host a fair and neutral debate for our candidates."
He concluded: "Therefore, Fox News will not serve as a media partner for the 2020 Democratic primary debates."
Shortly after the announcement was made, CNN senior media correspondent Brian Stelter noted that even if the New Yorker piece didn't come out, it would have been surprising for the committee to award a debate to the network considering how Democrats are represented during Fox's primetime hours
"Every night in primetime, Democrats are dehumanized," he said on CNN Wednesday afternoon. "They are attacked relentlessly by Fox News primetime hosts."
Stelter added: "It was always hard for me to imagine a Democratic primary debate taking place in those hours when figures like Nancy Pelosi and Alexandra Ocasio-Cortez are constantly demonized and attacked."
In response to the DNC's decision, Fox News Senior Vice President Bill Sammon said: "We hope the DNC will reconsider its decision to bar Chris Wallace, Bret Baier and Martha MacCallum, all of whom embody journalistic integrity and professionalism, from moderating a Democratic presidential debate. They're the best debate team in the business and they offer candidates an important opportunity to make their case to the largest TV news audience in America, which includes many persuadable voters."
Watch the clip above, via CNN.