Republican Senator Says Trump Paid Hush Money to Stormy Daniels Because He 'Loves His Family'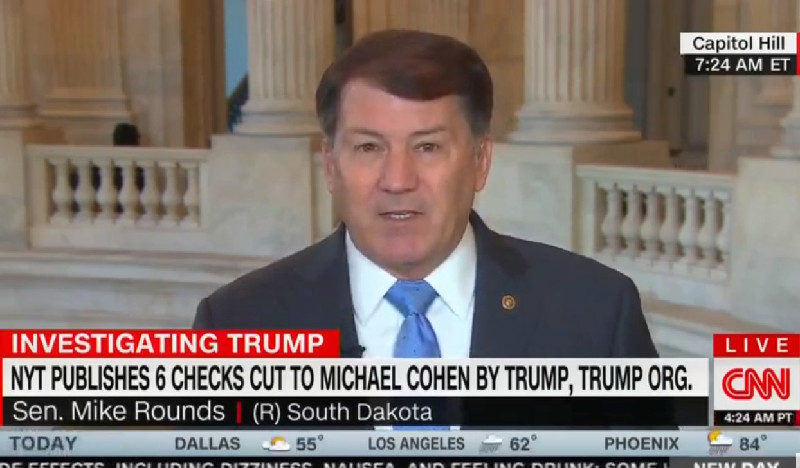 Amid reports that President Trump signed multiple checks to former Trump lawyer Michael Cohen to reimburse his one-time "fixer" for the hush payment sent to porn star Stormy Daniels, Sen. Mike Rounds (R-SD) told CNN anchor John Berman that the president paid off his former (alleged) mistress because he really loves his family.
Last week, Cohen testified before Congress that the president reimbursed him for payments made to women in order to buy their silence on alleged affairs during the 2016 presidential election. The New York Times later reported that Trump personally signed reimbursement checks to Cohen while conducting official White House business.
"This is a jarring juxtaposition, the president accused of writing payoffs to porn stars at the same time he's conducting presidential business," Berman said during Wednesday morning's broadcast of New Day. "As you look at this, are you OK with all of this?"
Rounds noted that anyone would be concerned when "you have a president who is trying to work through some very personal matters."
He added: "I honestly think this president loves his family. I think it has as much to do with trying not to have public discussions about something that is, for him, a private matter that he didn't want to have discussed with his family. I think that's a lot of it."
Rounds hammered home that point, repeatedly saying that he believes the president did this because "he loves his family" and didn't want them to go through this issue publicly.
Berman went on to highlight that the Southern District of New York has targeted the president as an unindicted co-conspirator on campaign finance violations, alleging the hush payments were an attempt to influence the election. Cohen has already been sentenced to three years in prison over these charges.
"I'm not going to try to litigate that today," Rounds responded.
Watch the clip above, via CNN.