Fox News' Brit Hume: Alexandria Ocasio-Cortez Is 'Adorable' Like A '5-Year-Old Child'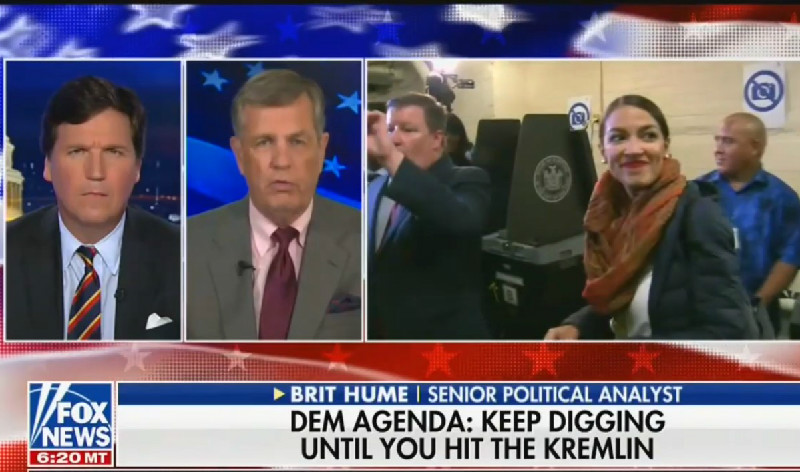 Complaining about all of the "exotic stuff" the Democratic Party is supposedly concentrating on, Fox News senior political analyst Brit Hume went on to compare Rep. Alexandria Ocasio-Cortez (D-NY) to an "adorable" little child.
Appearing on Fox's Tucker Carlson Tonight Tuesday evening, Hume claimed that more centrist and moderate Democrats are "frustrated" with progressive lawmakers pushing ambitious legislation like the Green New Deal, which host Tucker Carlson likened to believing in magic.
"If you completely cover yourself with this stuff, and this is what you are seen to be promoting, this is what all the noise has been about, what all the talk is about, you may be able to do some other things, but they will be overshadowed by all of this exotic stuff," Hume huffed.
The veteran anchor went on to say this is why Ocasio-Cortez has become so prominent — and assumedly why Fox News covers the freshman congresswoman on a round-the-clock basis — and compelling.
"She's kind of adorable, sort of, in the way that a 5-year-old child can be adorable," Hume asserted. "At the moment, I think it's fair to say, she is the de facto leader of the Democrats in the House of Representatives."
Carlson agreed, adding that she "says things nobody else will say, but she's also really arrogant."
"I wonder if she'll wear well?" Tucker asked.
Hume expressed some surprise that the "novelty" of AOC hasn't worn off yet before saying that she's "cheerful" and "attractive," which is why he feels she is able to "promote these exotic positions."
Watch the clip above, via Fox News.