The Five's Watters and Williams Get Into Shouting Match Over Investigations of Trump Administration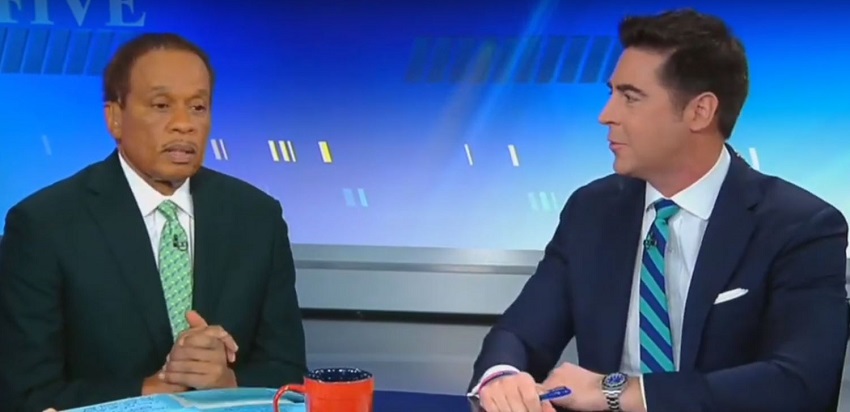 LOUD NOISES!
That is the best way to describe this segment of The Five on Tuesday afternoon, in which Jesse Watters yelled at Juan Williams because Watters thought he was laughing at Americans having been killed in the attack on the consulate in Benghazi in 2012.
What Williams was actually laughing at was Watters's transparent switch from demanding continuous investigations of the Obama administration by Congress at the expense of conducting any other national business to his now being upset that Democrats are investigating every nook and cranny of Donald Trump's administration.
In terms of potential scandals and criminal activities, the Trump administration has way more nooks and way more crannies. But if the mask was not off for Fox News before Jane Mayer's big New Yorker story this week, it is now.
Before Watters and Williams went at it, though, Greg Gutfeld was there to tell Democrats, "Eight years ago there were people like this about Obama. They were people who were convinced Obama was going to be a dictator, he was going to seize power. You're just doing what they are doing. You are now a mirror of the people you despised. You should step out of this and look and see that you're no better than they are."
It should be noted that in his long employment at Fox News, Gutfeld was one of the people who spent eight years screaming stuff like that about Obama.
Dana Perino then asked Watters to comment on Democrats' complaints that Republicans went "way overboard" investigating Obama and gumming up Congress. Watters responded that those were "legitimate investigations" because Americans died. When Williams laughed at him, he started hollering, "Do you think it's funny that Americans died in Benghazi? Do you think it's funny they died in Fast and Furious? Those are legitimate issues for oversight, Juan!"
Democrats are investigating corruption at the highest levels of the Trump administration, whether the president and his family have used the power of his office to enrich themselves in clear violation of the Constitution, and a host of other possible unethical and illegal behaviors. Those are also legitimate issues for congressional oversight.
Watters went on to claim there is a "scale" for him in evaluating these investigations. If Americans died, apparently it should be investigated. If a president is self-dealing in office or engaging in corrupt cronyism, Watters appears to be less concerned with getting to the bottom of it. Nobody died, so what's the harm?
Watch the video above, via Fox News.