Michael Cohen Snaps Back at Jim Jordan During Testy Exchange: 'Shame on You!'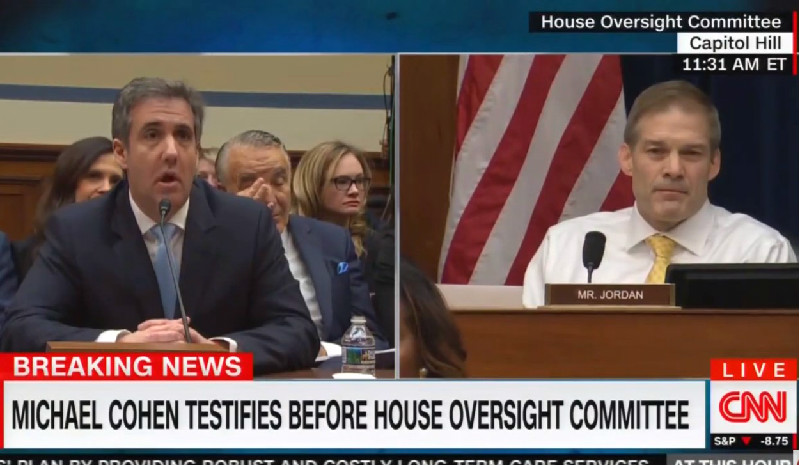 Throughout Wednesday's highly anticipated House testimony of former Trump lawyer Michael Cohen, GOP House Oversight Committee members repeatedly ceded part of their time to Ranking Member Jim Jordan (R-OH), as he appeared to be the designated attack dog.
During one such exchange where Jordan was given the final minute of a fellow colleague's question-and-answer session, Cohen gave as good as he got, forcefully telling the combative Trump loyalist that he should be ashamed for misrepresenting what he had previously said.
"We just had a five-minute debate where Mr. Cohen disputes what the Southern District of New York found, what the judge found, that he was actually guilty of committing bank fraud," Jordan excitedly exclaimed. "If this statement back here doesn't say it all, 'Cohen's consciousness of wrongdoing is fleeting, his remorse is minimal, his instinct to blame others is strong.'"
Jordan added: "There's only one thing wrong with that statement. His remorse is nonexistent. He just debated a member of Congress saying I really didn't do anything wrong with the false bank things that I'm guilty of and going to prison for."
Cohen replied that this wasn't what he said earlier and that Jordan knew that was the case. "I said that I pled guilty and I take responsibility for my actions," the ex-Trump fixer noted.
"Shame on you, Mr. Jordan," Cohen declared. "That's not what I said. Shame on you."
With Jordan's time expired, Cohen asserted that he is "remorseful" and is going to prison for three years. He further said that he is taking responsibility for his actions and he hopes that everyone watching can understand his actions a "whole lot better."
Watch the clip above, via CNN.