Michael Cohen: I Suspect Mueller Has Evidence That Roger Stone Spoke to Trump About WikiLeaks Email Dump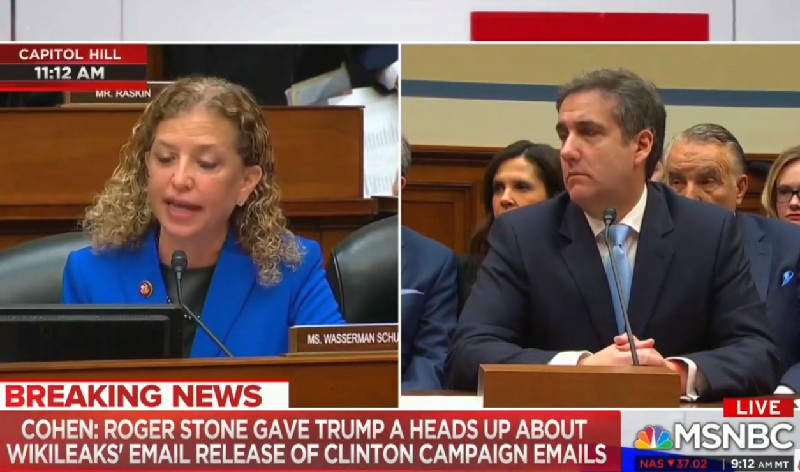 During Wednesday's much-anticipated House testimony of former Trump attorney Michael Cohen, the one-time fixer for the president said he believes that Special Counsel Robert Mueller has corroborating evidence that longtime Trump adviser spoke to then-candidate Donald Trump about a damaging WikiLeaks email dump in advance.
In his opening statement Tuesday morning, Cohen testified under oath that Stone spoke to Trump over the phone prior to the release of a cache of emails being released to damage Democrats and Hillary Clinton, Trump's opponent. According to Cohen, Trump said "wouldn't that be great" in response to the email dump.
"Mr. Stone told Mr. Trump that he had just gotten off the phone with Julian Assange and that Mr. Assange told Mr. Stone that, within a couple of days, there would be a massive dump of emails that would damage Hillary Clinton's campaign," Cohen said.
With this being the first time that anyone has testified publicly that the president had advance knowledge of the WikiLeaks' Clinton email dump, Rep. Debbie Wasserman Schultz (D-FL) asked Cohen a series of speculative questions on the president's relationship with Stone and whether or not Cohen believes Trump authorized Stone to contact Assange and WikiLeaks.
While Cohen said he wasn't aware whether Trump "explicitly or implicitly authorized" Stone to work with WikiLeaks to strategically release the emails and further noted that Stone worked as a "free agent" for Trump during the campaign, he stated that Stone and Trump talked frequently during the campaign. As for Stone's insistence that he never spoke to Trump about WikiLeaks, Cohen said someone else may have evidence to the contrary.
"I suspect that the special counsel's office and other government agencies have the information that you're seeking," Cohen declared.
Watch the clip above, via MSNBC.