Fox News Reveals New Anti-Sanders Tactic: Accusing His Wife Of Crimes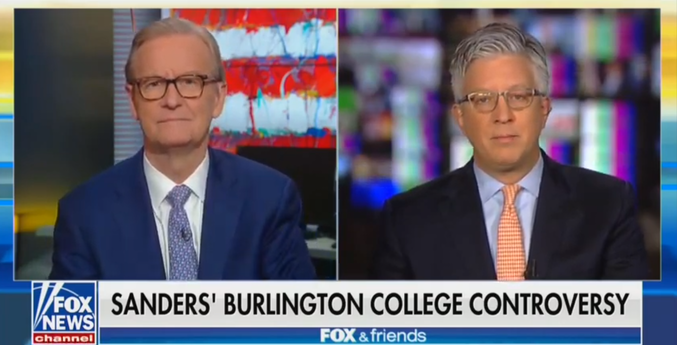 Fox News' hosts have done their best to discredit Senator Bernie Sanders since he announced he was running for president earlier this week, with warnings about the US becoming Venezuela the most popular talking point. On Thursday morning's Fox & Friends, they revealed a potential new line of attack: criticizing his wife.
Steve Doocy interviewed the Vice Chair of the Vermont Republican Party, Brady Toensing, about the college Jane O'Meara Sanders used to be president of. Burlington College was forced to close due to debts incurred in an unsuccessful land deal. Federal investigators have closed the case and no charges were filed, but Toensing wasn't satisfied.
"The college closed with a crushing weight of debt because she bought, in part, 32 acres to expand the college. Took out $6.7 million in tax exempt loans. What's your problem with that? It sounds like she was just trying to grow things bigger?" Doocy asked.
"Yeah. I don't have a problem. I like bigger things and I like successful businesses and I understand there's risk," Toensing said. "But there's also something called bank fraud. And what happened was that Jane Sanders misrepresented, lied about confirmed contributions to the school in order to get the bank loan to buy this property."
"How did she lie?" Doocy asked.
"She overstated the contributions. We know this because there are — well, we know this for at least three reasons. One, the school is only able to collect about 25% of the claimed contributions. Number two, the school's own audit reports showed the fraud. And number three, donors came forward to say that their pledges were overstated, that they were misrepresented."
Doocy asked about the federal investigation, which appears to have started because Toensing sent a letter about the issue.
"Well, we don't know officially what happened with that because of the federal officials don't discuss investigations and they don't discuss closing investigations but Bernie Sanders' office has claimed that it was closed without prosecution," Toensing said. "But, and this is the shame of this, Steve. If that is exactly what happened, there's not going to be a special prosecutor's report that comes out and explains exactly what role Senator Sanders played in getting this loan or what evidence was in front of the prosecutors that they declined to go forward on. We just have Senator Sanders, who refused to answer questions during the investigation because the investigation was going on and now he refuses to answer questions because it's closed."
Doocy read a brief statement from senior advisor to Sanders saying that the allegations were groundless and politically motivated, but Doocy went on to say: "The worry was that ultimately they just got a sweetheart deal because she was Bernie's wife, right?"
Toensing agreed that Jane O'Meara Sanders would never have gotten the loan if she was not married to the Senator. The segment on Sanders' wife was eerily similar to attacks on Hillary Clinton, including accusing her of crimes despite no charges being brought, and suggesting a special prosecutor.
Watch the video above, via Fox News.