Lou Dobbs Stammers When Guest Says Trump 'Takes Your Calls': 'I Don't Know That He Does'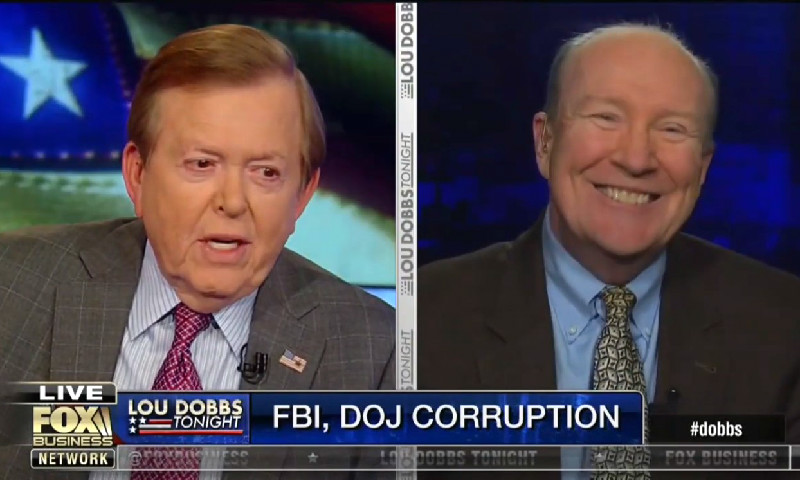 Despite being President Trump's most passionately loyal cable news sycophant, Fox Business host Lou Dobbs appeared to be a bit embarrassed Wednesday night when his guest brought up his close relationship with the president.
Towards the end of a typical Lou Dobbs Tonight segment on Deep State corruption, Dobbs went off on a standard rant about the need to clean out the FBI and Justice Department because that's where "truth goes to die." As the Fox Biz host huffed that we don't hear more about Benghazi and other crimes, Fox News contributor Andrew McCarthy said the president could "unseal this stuff" at any moment.
"That time in my judgment, Andy, has arrived," Dobbs interjected.
With a wide grin, McCarthy replied: "Lou, I hear he takes your calls!"
Flustered, Dobbs stammered a bit, saying "I don't know that he does" while haltingly saying he doesn't know if it's that often.
"What would you say would be a regular kind of occurrence?" Dobbs asked with a sheepish smile.
"I would say, even if you could do it once put a bug in his ear, we need some disclosure," McCarthy answered, causing Dobbs to reply that he'll do his best to get through the White House switchboard.
Besides the fact that Trump constantly livetweets Dobbs' show, it has been reported that the president "cherishes" Dobbs so much that he occasionally puts him on speakerphone during Oval Office meetings. During the latest budget deals, the White House placed calls to Dobbs and fellow Trump loyalist Sean Hannity to rally support for the president as he planned on signing the budget compromise.
Watch the clip above, via Fox Business.