Here's Footage of Tucker Carlson Telling Historian to 'Go F*ck Yourself, You Tiny Brain…Moron'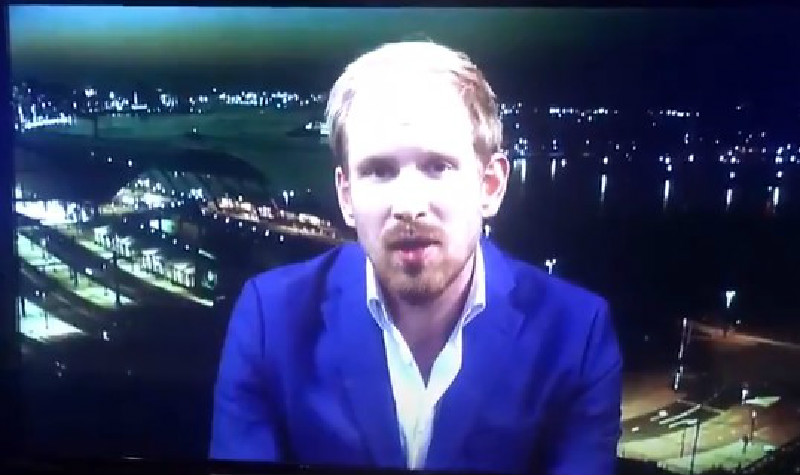 Earlier this month, historian Rutger Bregman revealed that during an unaired interview with Fox News host Tucker Carlson, the conservative commentator lashed out and called the academic a "moron" after Bregman accused him of being a "millionaire funded by billionaires."
With Tucker Carlson Tonight deciding against airing the segment, Bregman — who became a viral online sensation for taking the Davos elite to task over taxes — provided his own personal footage of the segment, giving NowThis News cell phone video taken during his remote sitdown.
In the nearly eight-minute video posted Wednesday afternoon, Bregman can be seen calmly discussing his speech at Davos where he called out billionaires for not paying taxes and seeking out tax shelters and paradises. Carlson, who has painted himself as an anti-elitist warrior taking on the ruling class in recent months, appeared to be largely impressed with Bregman early on. But then things took a dramatic shift.
Watch Fox News host Tucker Carlson call one of his guests a 'tiny brain…moron' during an interview. NowThis has obtained the full segment with historian Rutger Bregman that Fox News is refusing to air. pic.twitter.com/kERYPUaGLY

— NowThis (@nowthisnews) February 20, 2019
After Bregman invoked the Murdoch family — which owns Fox News — and said they would prefer that Carlson "scapegoat immigrants instead of talking about tax avoidance, the Fox News host asked if Bregman thinks he's taking orders from the Murdochs. The historian observed that isn't exactly how it happens before pointing out that Carlson has been a senior fellow at the Cato Institute for years and that Cato has been funded by the Koch Brothers for years.
An increasingly irritated Carlson wanted to know how "this works," causing Bregman to state that it all came down to "you taking their dirty money."
"You are a millionaire funded by billionaires, that's what you are," Bregman added. "And I'm glad that you finally jumped the bandwagon of people like Bernie Sanders and AOC, but you are not part of the solution, Mr. Carlson. You're part of the problem, actually."
A totally flustered Tucker began sputtering while Bregman continued to highlight that all the Fox anchors are millionaires and they are not going to talk about certain things. Carlson replied that the Dutch academic doesn't even get Fox where he is, leading Bregman to calmly note that there is such a thing as the internet.
Eventually, after Bregman reiterated that Carlson is a "millionaire funded by billionaires," he came to Tucker's show to speak truth to power just like he did in Davos, and Tucker isn't very convicing with his anti-elite rhetoric, the Fox News star blew up.
"I wanna say to you, why don't you go fuck yourself," Carlson shouted. "You tiny brain — and I hope this gets picked up because you're a moron. I tried to give you a hearing, but you were too fucking annoying."
"You can't handle the criticism, can you?" Bregman asked at the end.