Morning Joe: Kevin McCarthy Said 'Don't Let Three Jews Buy The Election'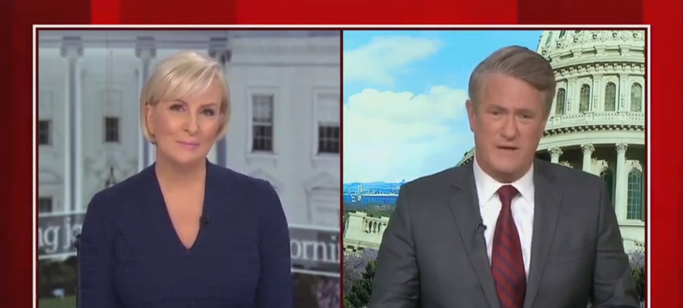 MSNBC's Joe Scarborough hit Republicans again Thursday for the use of Anti-Semitic tactics. The Morning Joe host took aim at House Minority Leader Kevin McCarthy for a 2018 tweet showing three Jewish billionaires. The tweet was later deleted.
Host Mika Brzezinski discussed the tweet, which featured a photo of billionaire philanthropist George Soros and said "We cannot allow Soros, Steyer and Bloomberg to BUY this election!" All three men are Jewish. Brzezinski showed a clip of McCarthy denying the tweet had any religious connotations, but Scarborough wasn't buying it.
"Mika, the billionaires, he picked out three Jews," Scarborough said. "He said — let's put the tweet back up again. I mean, the tweet is saying with a picture of George Soros, an ominous looking picture of George Soros, Kevin McCarthy said don't let three Jews buy the election."
"Could we have a House resolution condemning that? Could we have a Senate resolution condemning that tweet that now the person running the Republican Party in the House of Representatives put out a tweet: Don't let Jews buy the midterm election. Because that's what he said."
"And it's beyond hypocrisy on a whole new level, driven by hate," Brzezinski said. "The tweet that McCarthy deleted the next day, so he must have finally realized something was wrong with it, came as Tom Steyer, George Soros and other prominent Democrats were being targeted by pipe bombs. Remember that?"
"The San Francisco Chronicle asked McCarthy's spokesman why it was deleted if the congressman believed there was nothing wrong and the paper was directed to a statement issued at the time referencing the sensitivity of the political climate, aka, they did think it was wrong and took it down. But whatever."
Scarborough has repeatedly criticized Republicans for what he sees as their hypocritical reaction to a tweet from Democratic Representative Ilhan Omar, who has since apologized.
Watch the video above, via MSNBC.