Fox & Friends Attack Ilhan Omar For Asking Elliott Abrams About Central American Massacres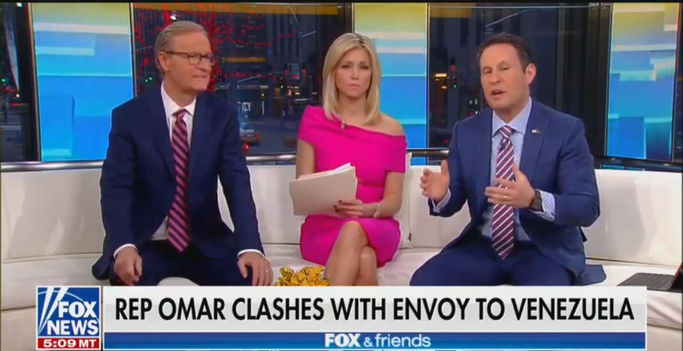 Fox & Friends slammed Democratic Representative Ilhan Omar Thursday morning for daring to ask about massacres in Central America during the Reagan administration. Omar asked Trump's new Venezuela envoy Elliott Abrams about his role in alleged war crimes during the 1980s.
Abrams served in Ronald Reagan's administration, where he steered policies that many believe led to the massacre of 1,000 civilians in El Salvador. He was also implicated in the Iran-Contra Affair, where the Reagan administration was selling weapons to Iran illegally in order to fund the regime which committed that massacre.
Fox & Friends showed a clip of the exchange between Omar and Abrams, before criticizing her and simultaneously defending the actions of the Reagan administration.
"You have got to watch the whole thing because it was extraordinary," Steve Doocy said. "It's like something you've never seen in a committee hearing. You know, when she said it was not a question. Clearly it was a political statement she was making. But he was getting frustrated because he has been around Capitol Hill for decades and he has never seen anybody like this."
"He wasn't there to talk about that," Ainsley Earhardt said, despite the fact that Abrams' record on Central America may be relevant to his new post. "She is accusing him of being a liar and wanting to know about the Iran-Contra Affair?"
"Listen, in El Salvador, in Nicaragua, in that region, Bolivia, there was a Communist infiltration in the 1980s," Brian Kilmeade said. "And President Reagan wasn't going to have it. He was going to make sure the Russians, then the Soviets, were not going to infiltrate and to take over our hemisphere."
"So to do that had you to do some, you had to do some extreme work," Kilmeade said. "He's part of that work. The effort to that gave us El Salvador, which is closer to a democracy than not and Central and South America are […] the president should be very proud of his foreign policy."
Kilmeade was presumably referring to President Ronald Reagan, who died in 2004.
"For this 20 something-year-old fresh congresswoman to be that dismissive and condescending to someone like Elliott Abrams is beyond the pale. Democrats should all be embarrassed by her," Kilmeade said.
Watch the video above, via Fox News.