Lou Dobbs Wonders Why Jeff Bezos Didn't Pay Off David Pecker: 'Just Buy the Thing!'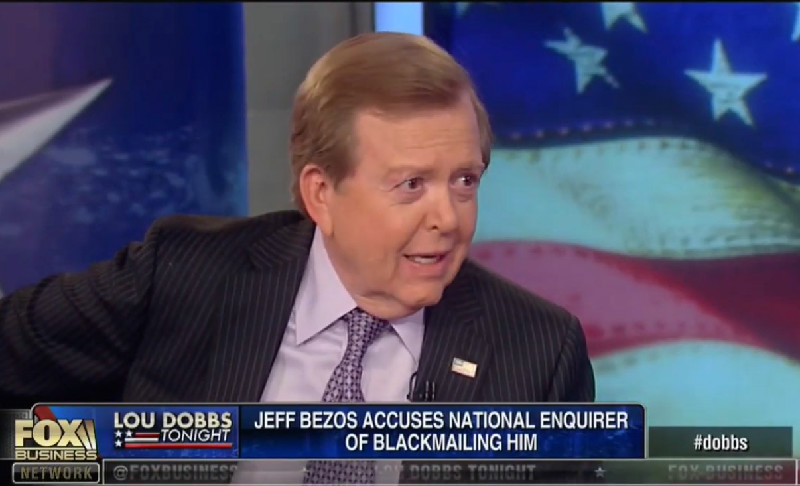 Thursday evening brought the explosive bombshell of Amazon founder and Washington Post owner Jeff Bezos accusing the National Enquirer and its parent company American Media Inc. of extortion and blackmail. Responding to the breaking news, Fox Business host Lou Dobbs wondered aloud why Bezos didn't just play ball and instead decided to expose AMI chief David Pecker's plot.
Discussing the issue with conservative talk host Mark Simone, Dobbs framed it as Bezos and the Enquirer "squaring off over pictures with his girlfriend, mistress, who knows what," calling it an "ugly and sordid accusation" made by the Amazon chief executive. "Could it possibly be true?" Dobbs asked.
Simone and the Fox Biz host then bantered about the Bezos hiring investigators to find out who originally leaked the photos to AMI, with Dobbs noting that one report points to the mistress's pro-Trump brother. "Sounds like a great guy," he noted.
Going into the details of the Enquirer demanding money from Bezos in return for not publishing nude selfies and other possibly embarrassing photos, Simone said he wasn't sure that was "legally technically blackmail." Meanwhile, Dobbs questioned why Bezos didn't just pony up to kill the story.
"Why do you suppose Jeff Bezos, of all people, doesn't do exactly what he's always done: Just buy the thing," the Trump loyalist asked. "I mean, why talk about these little piddling sums? Just say alright, David Pecker, tell me how much you want."
Simone responded by noting that the media is going to associate Pecker with Donald Trump before lamenting that Bezos will now become a sympathetic figure when "normally he'd be the villain."
As for Dobbs wondering why Bezos didn't just pay off the Enquirer, Pecker and AMI currently have an immunity deal with the Justice Department over their previous 'Catch and Kill' relationship with Trump. Pecker was given immunity last year in exchange for information on hush payments made to two women who allegedly had affairs with Trump.
Watch the clip above, via Fox Business.