Fox News' Martha MacCallum: Trump's Executive Time 'Sounds A Lot Like Work'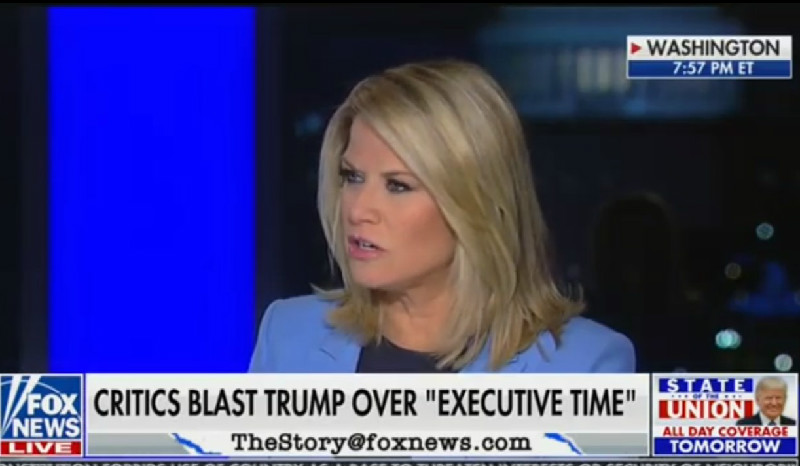 Responding to Axios' scoop on President Donald Trump's spending most of his workday enjoying "executive time," Fox News anchor Martha MacCallum said Monday evening that the president watching television, reading newspapers and tweeting sure "sounds a lot like work."
Bringing on Fox News media analyst Howard Kurtz to discuss the story, MacCallum pointed out that the Axios report noted that Trump "spends his mornings in the residence, watching TV, reading the papers, and responding to what he sees and reads by phoning aides, members of Congress, friends, administration officials and informal advisers."
Kurtz said the leak from a White House insider was like a "heat-seeking missile" from somebody who clearly doesn't like the boss as it plays into the narrative that Trump is lazy. He added that average Americans will shrug off this story because "who cares how he runs his schedule as long as gets things done."
MacCallum then chimed in to frame the president's use of "executive time" — a term former Chief of Staff John Kelly came up with to describe Trump's TV-watching time before 11 AM — as Trump getting things done.
"What struck me when I read it is it sounds a lot like work," The Story host remarked as Kurtz chuckled. "He is reading the papers. He does watch a lot of television — he admits that."
With Kurtz interjecting that Trump maybe watches "too much" TV, MacCallum stated that he "watches probably almost every cable channel in the day" and we could "make whatever you want of that." She then compared to folks who work from home or remotely.
"Speaking to members of Congress, reacting to calling people, to me it sounds like he is sitting in the residence doing similar work that he might be doing in the Oval Office," MacCallum commented. " I think a lot of Americans sort of understand that the lifestyle has kind of changed in the world in terms of where people do their work."
According to the Axios story, roughly 60 percent of the president's schedule over the past three months has been devoted to executive time. The schedules reveal that Trump typically spends the first five hours of his morning in the residence in executive time and doesn't head into the West Wing until after 11 AM.
Reacting to the report, White House Press Secretary Sarah Huckabee Sanders said Trump has so much unstructured time on his schedule "to allow for a more creative environment that has helped make him the most productive President in modern history."
Watch the clip above, via Fox News.