Cardi B Drags Tomi Lahren For Mocking 21 Savage: 'Don't Make Me Get My Leash'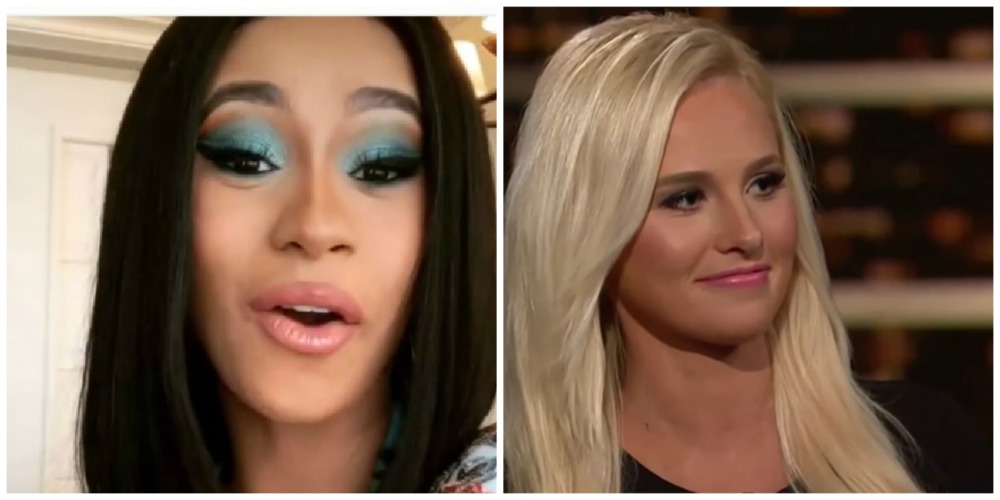 After Fox News contributor and professional outrage artist Tomi Lahren mocked Atlanta rapper 21 Savage following his arrest by ICE agents, hip-hop megastar Cardi B dragged the conservative commentator by recalling her previous Lahren clap-back.
"I got one, two, three, four, five, six, seven, eight ICE agents ready to deport ya," Lahren tweeted Sunday afternoon while sharing a link to a Variety article reporting 21 Savage's arrest. The Fox Newser was referencing lyrics from the artist's hit Bank Account.
I got one, two, three, four, five, six, seven, eight ICE agents ready to deport ya. https://t.co/tivP1Ljj8V

— Tomi Lahren (@TomiLahren) February 3, 2019
Early Monday morning, Cardi B took to Twitter to respond to Lahren's diss and give her a warning.
Don't make me get my leash https://t.co/ErQ2RhzDeg

— iamcardib (@iamcardib) February 4, 2019
"Don't make me get my leash," the Bronx rapper wrote. This was an obvious reference to her Twitter scuffle with Lahren last month. Following Cardi B's viral video in which she called out President Donald Trump over the government shutdown, Lahren publicly criticized the rap artist, resulting in Cardi B replying that she would "dog walk" Lahren.
According to federal officials, 21 Savage — whose real name is Sha Yaa Bin Abraham-Joseph — is a UK national who came to the United States as a child and overstayed his visa. ICE spokesman Bryan Cox said that the rapper was taken into custody during a "targeted operation" in Atlanta Sunday morning.
After her previous dragging at the hands of Cardi, Lahren went on Fox News and whined that she was being physically threatened and that there was a "double standard" at play because she couldn't get away with that. One wonders how she will respond to this latest Twitter murder.