Tucker Carlson Reports As Fact That CNN 'Talked To Mueller's People Before' Roger Stone Raid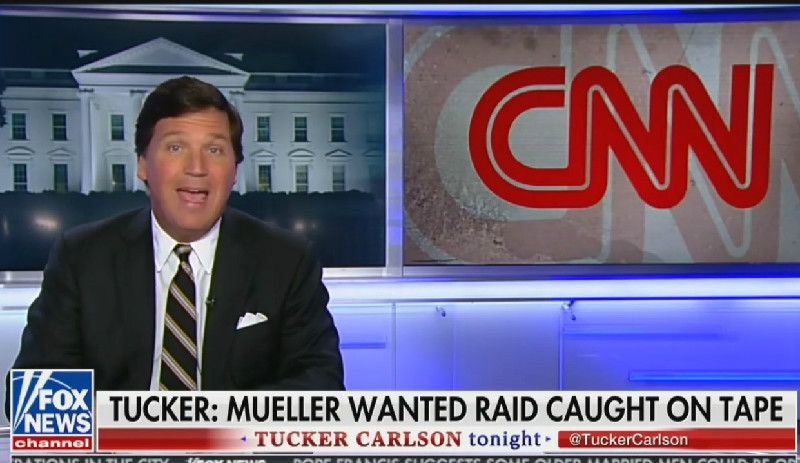 Over the past few days, a narrative has hardened within the right-wing media echo chamber that CNN was tipped off by Special Counsel Robert Mueller's office about the early Friday morning arrest of longtime Trump adviser Roger Stone so the network could capture live footage. Even though the original propagator of the theory backed away from and corrected her claim, and CNN provided a detailed explanation as to how they connected the dots, Fox News hosts and commentators have continued to accuse CNN of getting the info from Mueller's office (despite Mueller's reputation of never leaking).
At the top of his broadcast Monday night, Fox News' Tucker Carlson noted in his Friday evening interview with Stone that Stone said it was "disconcerting that CNN was aware that I would be arrested before my lawyers were informed."
"So that's a fair question about who asks it and many began asking within minutes of stones arrest on Friday morning," Carlson stated. "How did CNN know about a raid that was supposed to be secret? Did they learn from Mueller's team?"
He went on to say that CNN has reacted "angrily" to those questioning if they got the info from Mueller and that the network and its reporters have claimed they figured it out via research and intuition. Tucker then said that CNN president Jeff Zucker "dispatched his minions to bat down further questions on the topic" before playing a clip of CNN senior media reporter Oliver Darcy calling it a conspiracy theory put forth by bad faith actors.
The Fox News host laughed off Darcy's remarks, saying it was "one for the ages" and "summarized everything." After saying CNN was trying to decide what should and shouldn't be covered in the news, Carlson said he reached out to a CNN spokesperson and "the kid that you saw playing media reporter" to ask a simple question — did Mueller's office help you with your story?
From there, Carlson claimed that CNN first responded with feigned outrage and labeled him right-wing before saying that when they kept pressing CNN they didn't deny it when asked: "Did federal law enforcement officials confirm the raid on Roger Stone's house to CNN before it happened?"
"When we pressed it, CNN dropped the fake outrage," he said. "They just refused to answer. Because of course, CNN talked to Mueller's people before the raid — there was never any doubt about that."
He ended his monologue with this assertion, full of full-throated accusations supported by no evidence other than Carlson's own feelings on the situation:
"All the barking aside, Mueller wanted the raid on Roger Stone's home caught on tape and publicly aired as a warning to other disobedient witnesses about what can happen to you if you step out of line. CNN was happy to oblige. CNN acted as the public relations arm of the Mueller investigation as they have before, and then they lied about it in the most self-righteous possible way and sent those kids on TV to lie some more. It answers a lot of questions. No wonder CNN seems so eager to defend Friday's raid and to belittle and attack and marginalize anyone who asked honest questions about it."
Not only did Carlson say it is an indisputable fact that Mueller tipped off CNN on the rais so he could have it televised as a warning to others, he also accused CNN reporters of lying about it in the aftermath. And the only thing he points to as any sort of proof is that a CNN spokesperson didn't provide him with a specific answer.
Meanwhile, the spokesperson that Carlson reached out to — CNN vice president Matt Dornic — responded on Twitter shortly after the segment aired. And he provided the response he gave Tucker's producer to the question.
I'm the spokesman he's referencing. This was my actual response to his producer. pic.twitter.com/5JXjIVmrUb

— Matt Dornic (@mdornic) January 29, 2019
The response pointed out that journalists "don't disclose their sources" and even Fox News should know that. Additionally, Dornic said in his email to Tucker's show that the network has made it "abundantly clear what clues led us to Stone's house" and that effort would have been unnecessary if they were merely told by Mueller to show up.
Dornic also pointed out that Carlson's show did not use that comment on air.
Note they didn't use this.

— Matt Dornic (@mdornic) January 29, 2019
Watch the clip above, via Fox News.