'Let Them Eat Cake': Rep. Debbie Dingell Shreds Lara Trump And Wilbur Ross Over Shutdown Remarks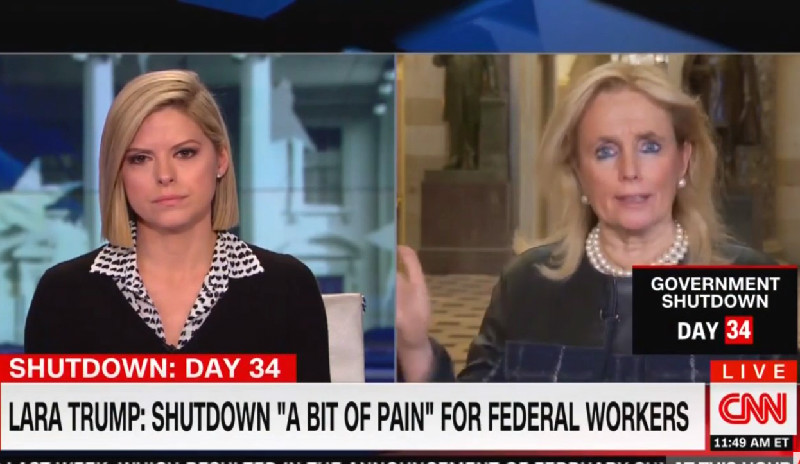 Rep. Debbie Dingell (D-MI) lashed out at Trump World for appearing extremely out of touch with the plight of unpaid and furloughed federal workers, reacting to recent comments made by Commerce Secretary Wilbur Ross and Trump campaign adviser Lara Trump by referencing Marie Antoinette.
Playing clips of Ross saying he didn't "really quite understand" why federal workers impacted by the month-long government shutdown were going to food banks and Trump shrugging off the lack of pay as just a "little bit of pain," CNN anchor Kate Bolduan asked Dingell is she had a response to those remarks.
"OK, so when I first heard it, I was like, 'Well, let them eat cake,'" Dingell exclaimed. "Hello, France!"
She continued, "These are my constituents. When I go home, the first thing I do is meet with them. They are in tears. They're looking at catch-22 situations where they can't even figure out how to get help."
The Michigan lawmaker criticized "these billionaires" for not understanding what it is like to live paycheck to paycheck, adding that Ross likely spends as much on a meal as many TSA agents make in a year.
"Let's get with the real world," Dingell huffed. "Let's understand what these really good working men and women are living on, struggling with, and let's understand that they haven't been paid in 33 days, and we've got a moral responsibility to do something for these public servants who are working for us."
Bolduan noted that she had interviewed the congresswoman many times in the past and this was as mad as she's ever seen her, causing Dingell to relay a personal story of an FBI agent who has written to her every day for two weeks about how angry he is at the shutdown.
Watch the clip above, via CNN.