GOP Senator: I Hope Media And 'Some Movie Stars' Are Sued For Libel Over Covington Story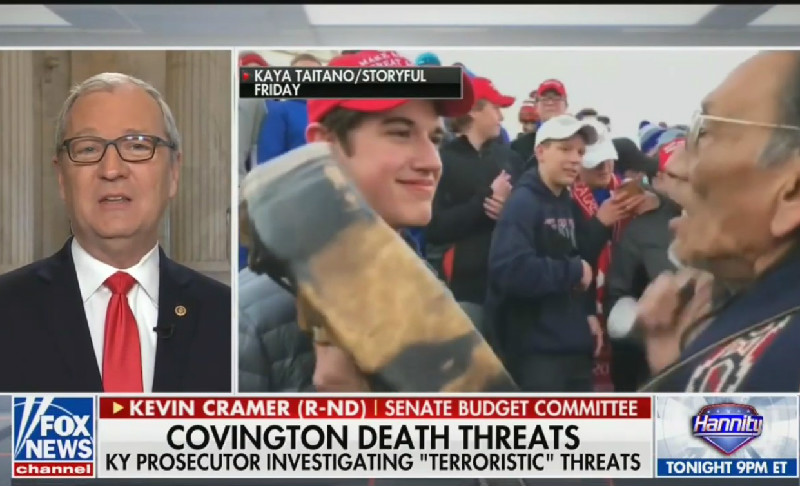 Over the past few days, students from Covington Catholic high school have gone from social media villains to right-wing superheroes as conservative media has reframed the confrontation between the MAGA hat-wearing teens and Native American activists to portray the students as victims of targeted harassment and a rush to judgment by a dishonest media.
As we approach a week of wall-to-wall coverage of the controversy, Sen. Kevin Cramer (R-ND) appeared on Fox News to give his hot take on the situation. And in his opinion, not only did the students not do anything wrong whatsoever this past weekend, but he hopes they get a bunch of attorneys to sue media outlets and celebrities
"Well, my thoughts on all of it is it's a tragedy that we're even at this point and what once used to be called mainstream media — I don't think that's even fair anymore — rush to judgment because they wanted to believe it," Cramer said this morning on America's Newsroom. "It's like a kid that believes in Santa Claus two or three years after they're old enough to know better. They believe what they want to believe and see what they want to see."
He continued, "I hope there is a bank of lawyers that sue everybody, including a bunch of mainstream media for libel, and some movie stars by the way. It's time we take action against this."
Robert Barnes, a vocal Trump supporter who has offered his services to Covington "pro-bono," has vowed to sue those who criticized the students after the initial video of the incident went viral, including the New York Times' "Maggie Haberstram."
Below is the tweet Cramer sent on Wednesday while watching America's Newsroom, apparently following the president's lead in live-tweeting Fox News:
.@AmericaNewsroom with @BillHemmer & @SandraSmithFox is revealing how sick the left is. @washingtonpost reporter & a leftist are incapable of blaming haters for Covington incident. Every decent statement goes to a "but" or "however" followed by rationalization. Sick.

— Sen. Kevin Cramer (@SenKevinCramer) January 23, 2019
Cramer went on to say that he wanted to be "clear these students did nothing wrong," adding that they were doing "peaceful protected expression of speech" and they "weren't the ones that were invading other people's space."
"And I just get very concerned when our media even subtly implies that somehow the students were in the wrong for being there," the North Dakota lawmaker continued. "It is like being blamed for your own murder because you were in the bank when the bank robber pulled a gun out. It is not right. I think our media needs to reflect."
After additional video came out and there was a re-analysis of what led up to the standoff between Native American activist Nathan Phillips and Covington student Nick Sandmann, Deadspin's Laura Wagner wrote that the new footage and still showed the students "doing the tomahawk-chop motion and mocking the way Phillips was singing." She further bemoaned that the mainstream media succumbed to the new narrative and was "all too happy to say that the sky was not blue if it meant burnishing their credentials as serious and objective, and fell over each other to back away from what was right in front of their eyes."
Watch the clip above, via Fox News.