Eric Swalwell: Trump Is Acting Just Like MS-13 By Threatening Michael Cohen's Family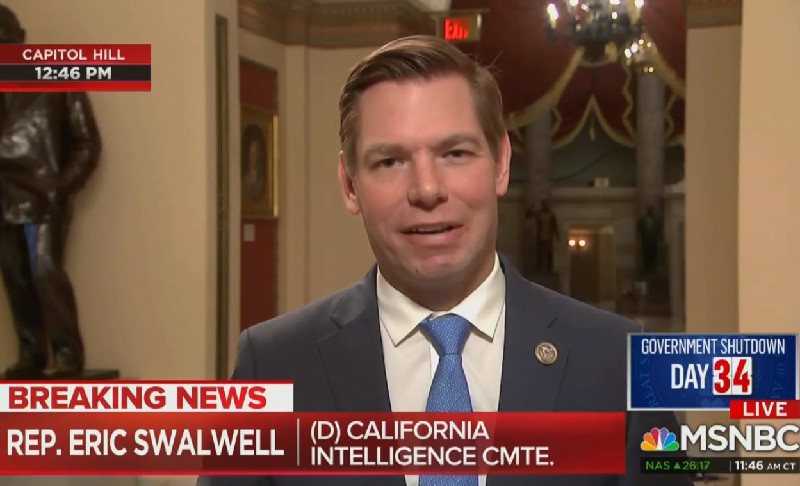 Reacting to former Trump lawyer Michael Cohen's postponement of next month's House testimony over what Cohen claims are "ongoing threats against his family" from President Trump and Trump attorney Rudy Giuliani, Rep. Eric Swalwell (D-CA) compared the tactics used by Trump to MS-13 gang members.
On Wednesday, Cohen's legal advisor Lanny Davis released a statement saying Cohen was postponing his February 7th appearance before the House Oversight Committee due to the threats, referencing public comments made by both Trump and Giuliani calling for Cohen's wife and father-in-law to be investigated due to alleged ties to organized crime. Appearing on MSNBC's Andrea Mitchell Reports on Thursday, Swalwell — a member of the House Intelligence Committee — was asked if there is any chance the House will censure Giuliani, something Davis has requested.
"Not at this time," the congressman said. "My position, and I think my colleagues share this, is the president has clearly I think obstructed, intimidated witnesses. He's actually even tried to influence a jury deliberation with Paul Manafort. We should collect the evidence and conduct our investigations and see where we need to go."
Regarding whether or not Cohen has a legitimate fear about what may happen to him and his family, especially as he will be heading to prison soon for a three-year stint, the California lawmaker agreed that there is reason for Cohen to be frightened.
"This is a fear I've worked with for years as a prosecutor," he noted. "So the subjects may be different, we may be talking about the President of the United States, but this is how gangs conduct themselves."
Swalwell continued, "This is how MS-13, the president's adversary, conducts themselves. What they do is try and intimidate people who have left the gang by threatening their family, by telling them if they cooperate, harm will come to them."
He went on to say they need to do what they can to protect the witness and not allow these type of tactics to be used successfully as other witnesses will then feel pressure. At the same time, he said it is imperative that Cohen testify to Congress and tell his story to the American people. Meanwhile, on Thursday, the Senate Intelligence Committee subpoenaed Cohen to appear before them next month.
The president has consistently used the violent gang MS-13 as a boogeyman to justify the need for a border wall and to fearmonger about migrant caravans and asylum-seeking Central American refugees, largely exaggerating as to how widespread the gang is across the United States.
Watch the clip above, via MSNBC.