Trump Is 'Furious' With Giuliani And Could Fire Him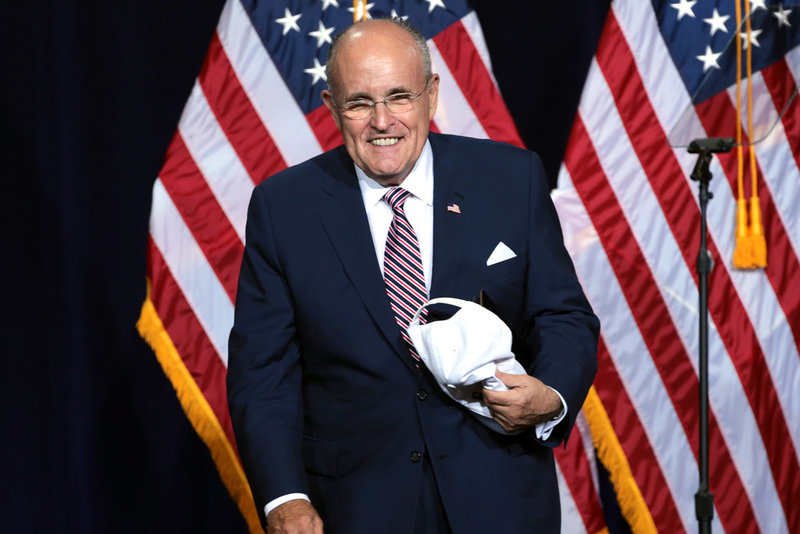 President Donald Trump is 'furious' with his lawyer, Rudy Giuliani, according to a new report from Vanity Fair. Giuliani has made a series of statements that have been damaging to Trump while apparently attempting to defend him. Some close to Trump are encouraging him to fire Giuliani.
Giuliani told the New Yorker that he didn't want headstone to read "Rudy Giuliani: He lied for Trump." He also contradicted his earlier statements, denying he had ever said there was no collusion between the Trump campaign and Russia.
According to one Vanity Fair source, "Trump is screaming. He's so mad at Rudy." The story reports that there is a debate in the White House about firing Giuliani, with the President's daughter Ivanka and son-in-law Jared Kushner encouraging Trump to fire him.
"As Giuliani's unforced errors pile up, former West Wing officials and 2016 campaign veterans are privately debating what's gone wrong with Rudy," the report says. "Why, they ask, is he making statements that so obviously damage his client? A former White House official speculated that maybe Giuliani 'has lost his mind.'"
However, there are also suggestions that Giuliani simply loves the limelight. Since becoming Trump's chief defender, he has frequently appeared on cable news and been the subject of interviews. He hasn't been this prominent since is political career waned. That said, Giuliani is not enjoying working for the President because he believes things are going badly for him and Robert Mueller's report will be devastating.
"Everyone who works for Trump screws up because there's no way to please the guy," Vanity Fair quotes one Trump adviser as saying. This chimes with reports from former Trump staffers, including his former personal lawyer Michael Cohen, who has said he is ashamed of the things he did because of his loyalty to Trump.
Firing Giuliani now could be seen as a sign of weakness, since Giuliani has been the face of Trump's attacks on the Mueller probe for months. However, if Giuliani's arguments are forming Trump's legal defense, he may wish to seek other advise.