Fox News Guest Compares Native American Activist Nathan Phillips To The Nazis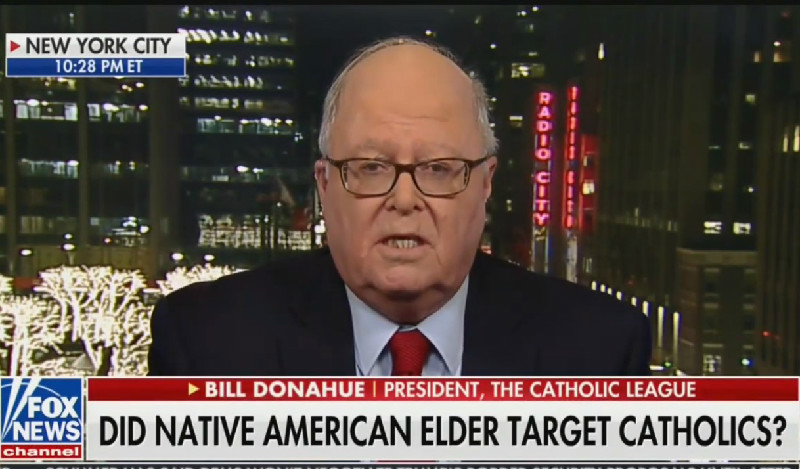 With conservative media jumping all over the Covington Catholic story and pushing it as an issue of liberal media bias and overall cultural prejudice towards Trump supporters, Fox News' Laura Ingraham invited Catholic League president Bill Donohue on to her program Tuesday night to further frame the incident in an anti-religion context. And not only did Donohue oblige, but he tossed in some Nazi comparisons to boot.
Doing a bit of opposition research on Native American activist Nathan Phillips — the man involved in the standoff with Covington students that went viral over the weekend — Ingraham first noted that the Marine veteran didn't actually serve in the Vietnam War, something that has been corrected by multiple outlets (and it appears Phillips didn't lie about). She then brought up a protest he was involved in at the Basilica in Washington before highlighting remarks he made describing the confrontation between the Covington students and fringe cultists the Black Hebrew Israelites.
"The seething contempt for the Catholic faith as expressed by him," Ingraham snarled. "He has since kind of cleaned up his rhetoric but what do you think about that?"
Donohoe said it wasn't the "white kids" that called the Indians savages, it was "the black thugs," referring to the Black Hebrew Israelites. He then took direct aim at Phillips.
"He didn't go after the blacks, did he — the Hebrew Israelites," Donohue exclaimed. "No, he went after the Catholic Church. He tried to storm the church! That's what the Nazis did in Germany — they went into the synagogues to disrupt the services."
He went on to say three groups were at the incident on Friday, and "only one wasn't involved in anything racist, and that was the white kids." (Apparently, Donohue doesn't believe white kids mocking Indian war cries and doing Tomahawk chops while Phillips sang and beat a drum is "anything racist.")
"The Indians with their taunting the kid — the Indians with their making, uh, storming the church," he yelled. "The blacks made comments about blacks which are racist, whites which were racist. They attacked Puerto Ricans. They attacked Catholics. They called the Indians savages and somehow the only group with did nothing to provoke any of this is the one being blamed by the left media."
Ingraham agreed with Donohue before further criticizing Phillips for "kind of passing himself off as a Vietnam vet," stating that other vets are not happy with him about that.
"I'm not going to join the pity parade," Donohue shouted. "This guy is a Vietnam era vet. Guess what, so am I. I'm a senior citizen. He's not. Yet he's regarded as a frail elder. This guy is an activist. He's a thug!"
"A professional activist," Ingraham chimed in.
Watch the clip above, via Fox News.