Kellyanne Conway Sputters When Fox's Harris Faulkner Grills Her On Trump Ending Shutdown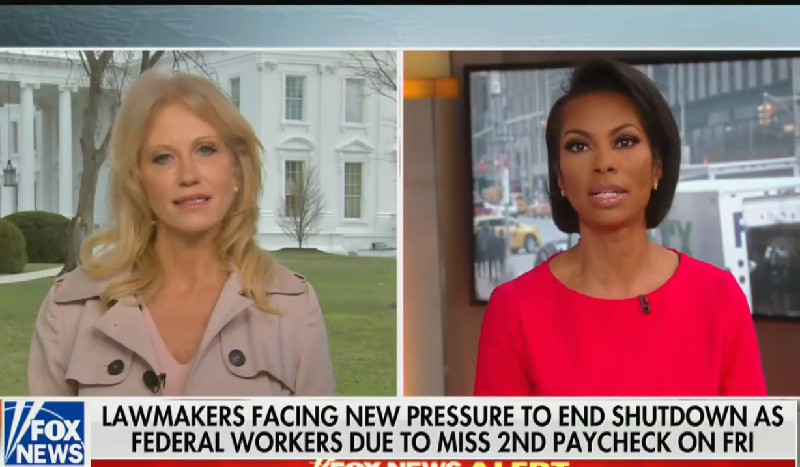 While White House counselor Kellyanne Conway is used to sparring with CNN hosts and calling the mainstream media overly biased, she is just as accustomed to going on Fox News for friendly chats to push the president's agenda while tossing out the administration's latest talking points with no pushback. Which is why she likely bristled this afternoon when Fox News anchor Harris Faulkner grilled her a bit on President Trump ending the month-plus government shutdown.
After discussing Trump's letter to Speaker of the House Nancy Pelosi regarding his intent to show up for the State of the Union, Faulkner wanted to address the shutdown, which is now in its second month.
"Eight hundred thousand people hurting — the president signing legislation that they will get back pay but many of those contractors and the constellation around those government workers will not get that pay," Faulkner said on Wednesday's Outnumbered Overtime. "That's traditionally how it works and they're going without. So this is a broadened swath of people that are damaged as the government shutdown. If the president is given something that both houses of Congress agree on, will he sign it?"
Conway replied that it "depends on what it says" while noting that Trump wants people to be paid, causing Faulkner to interject and ask whether Trump will sign something that doesn't have border wall funding "as we get late, late, late in the game now."
A clearly perturbed Conway reacted by repeatedly saying "that's not realistic," adding that the issue isn't the wall but "border security."
"If you don't have a physical barrier that people cannot crawl under, climb over, drive through, or walk around, then we don't really have border security," Conway exclaimed. "That's false."
The Trump aide went on to blame Democrats for being "disingenuous" while parroting the president's line that this can be solved in 15 minutes if Dems just came to the table and "allowed for the entire border security package." She concluded by saying the State of the Union can't be canceled because the nation needs to see "everybody together working toward the solutions."
Wrapping up the interview, however, Faulkner made sure to extend a fig leaf to Conway, noting that Democratic leaders like Steny Hoyer have said barriers work and that she's asked them in the past if they'd tear down the hundreds of miles of existing wall at the southern border.
Watch the clip above, via Fox News.