Maddow Leads In Total Viewers Friday Night, Tucker Takes Top Spot In Key Demo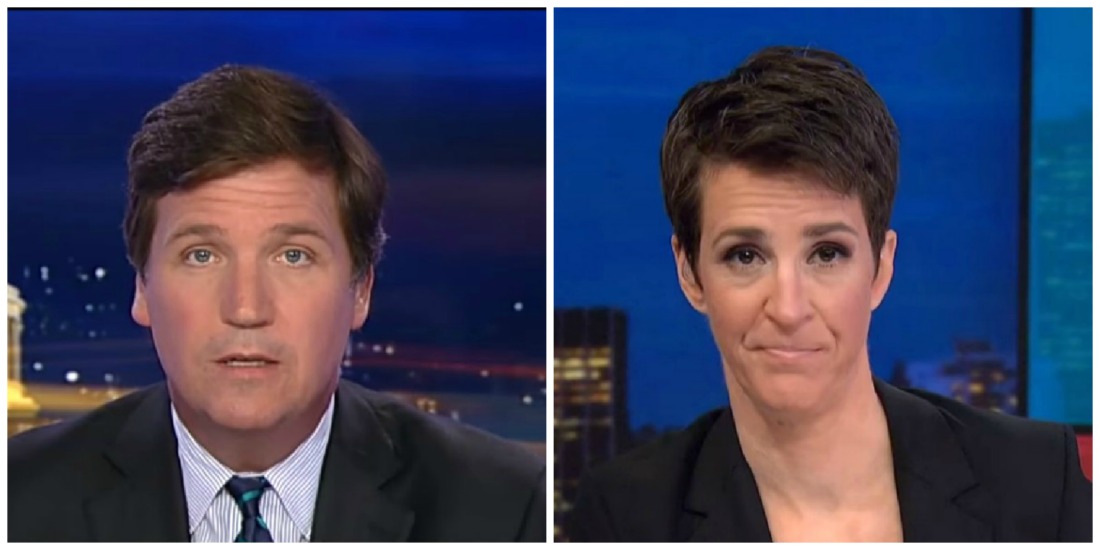 Friday's cable news ratings gave all three networks something to cheer about.
According to Nielsen, Fox News led across the board during the primetime 8 PM to 11 PM hours, drawing 2.543 million total viewers and 477,000 in the key 25-54 demographic. MSNBC followed up with 2.445 million viewers overall and 427,000 in the demo. CNN averaged 385,000 demo viewers and a total audience of 1.303 million.
In the daytime 9 AM to 5 PM slot, CNN topped the field in the demo with 277,000 while pulling in a total viewership of 1.036 million. Fox News captured 1.485 million viewers overall and 252,000 in the key demo. MSNBC nabbed 1.420 million total viewers and 235,000 in the 25-54 demographic.
MSNBC's The Rachel Maddow Show was the most-watched program in cable news with 3.073 million viewers overall. The MSNBC primetime program also finished second in the demo with 556,000. Fox News' Tucker Carlson Tonight took the top spot in the demographic with 589,000 and placed second in total audience (2.862 million).
Fox's Hannity, which airs opposite Maddow at 9 PM, took third place in both the demo (494,000) and total viewers (2.783 million). FNC's The Five finished fourth in the demographic (399,000) and total audience (2.428 million).
The top-rated program on CNN was Anderson Cooper 360, which drew 1.451 million total viewers and 398,000 in the key demo.