'Be Less Stupid': Chris Cuomo Gets Dragged For Lending Credibility To Kamala Harris Birther Claims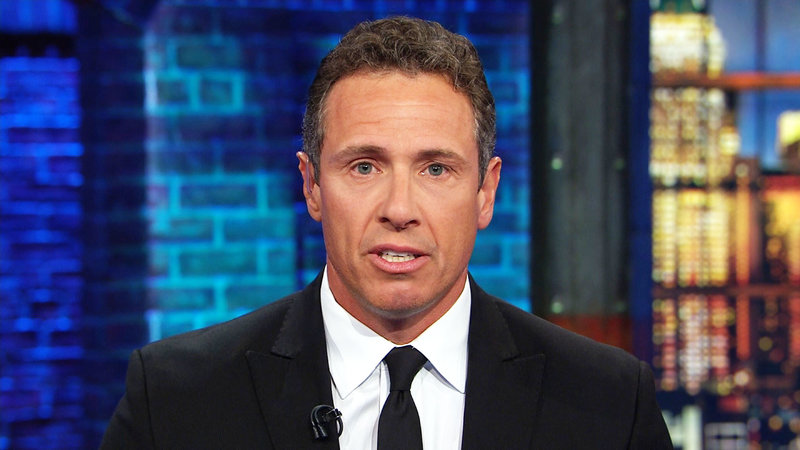 Did you know that there's apparently a push to do to Sen. Kamala Harris (D-CA) what was done to Barack Obama now that she's announced her bid for the presidency? And did you also know there's a primetime news anchor who momentarily lent credence to that idiotic accusation?
On Tuesday morning, MAGA Twitter personality and hipster coffee shop expert Jacob Wohl decided to take time off from falsely smearing Robert Mueller to take aim at Harris, claiming that she is not eligible to run for president because her parents were not legal residents of the United States for at least five years when she was born.
Kamala Harris is NOT eligible to be President. Her father arrived from Jamaica in 1961—mother from India arrived in 1960

Neither parent was a legal resident for 5 years prior to Harris's birth, a requirement for naturalization

Kamala was raised in Canada

— Jacob Wohl (@JacobAWohl) January 22, 2019
This is, of course, a bunch of nonsense. Regardless of Harris' parents' citizenship or residency status at the time, Harris was born in Oakland, California. Therefore, she is an American citizen — full stop.
Wohl's tweet was widely mocked and ridiculed right away, largely because Wohl is someone almost no one takes seriously. At one point, CNN political commentator Ana Navarro responded to Wohl's tweet, noting that we were once again dealing with the same "birther crap" that we went through with Obama.
Here we go again with the "birther" crap. Same drummed-up charge used against Obama to question his citizenship and legitimacy. Hmmmmm…..I wonder what Obama and @KamalaHarris have in common? 🤔 https://t.co/FJALAcAsXd

— Ana Navarro (@ananavarro) January 22, 2019
This led to CNN's Chris Cuomo jumping into the discussion. And whew boy.
"And hopefully there will be no games where the issue keeps changing for righty accusers…and…the legit info abt Harris come out to deal with the allegation ASAP," Cuomo wrote. "The longer there is no proof either way, the deeper the effect."
Mmmmmmhmmmmm. As you could imagine, a well-known journalist saying the "longer there is no proof either way" regarding a sitting senator's citizenship status immediately raised eyebrows.
Below is just a sampling of the shitstorm that came Cuomo's way:
RIGHT-WING NUTJOB: Kamala Harris was born in the ocean. I read it on the Deep Web. She has gills

CHRIS CUOMO: It is now up to Kamala Harris to rebut this potentially damning claim

— Jason O. Gilbert (@gilbertjasono) January 22, 2019
"was sitting united states senator kamala harris born in the united states? or should i believe the trump reply guy? who can say who is right? we're gonna have to wait for more information" – chris cuomo basically pic.twitter.com/dXkQk0gQ7B

— Bobby Lewis (@revrrlewis) January 22, 2019
Wait.

Are you telling me that Chris Cuomo called for Kamala Harris to release her goddamned BIRTH CERTIFICATE?!

What in the everloving fuck.

— Charles Johnson (@Green_Footballs) January 22, 2019
Gotta be in the running for the stupidest "both sides" of all time.

— Matthew Gertz (@MattGertz) January 22, 2019
Be less stupid

— NeverSaid"Hat" (@Popehat) January 22, 2019
This also led to a hilarious back-and-forth between Cuomo and others who were using his logic to 'raise questions' over whether or not he wears a toupee.
I am still waiting for Chris Cuomo to respond to the legitimate allegation that he wears a toupee.

The longer there is no proof either way, the deeper the effect.

— Jules Suzdaltsev (@jules_su) January 22, 2019
By addressing this rumor but not disproving it, you just lent credibility to whether or not your hair is real.

THAT'S what we're all trying to explain to you. Whether you demand proof about ridiculous claims or not – you lend credibilty by not outright ignoring them. https://t.co/rfOxWuytB0

— Jules Suzdaltsev (@jules_su) January 22, 2019
wow, cuomo still won't prove that he doesn't wear a toupee. a simple ask by @jules_su, yet cuomo can't show any proof. the longer there is no proof either way, the deeper the effect. https://t.co/zGFwZU1e7D

— jordan (@JordanUhl) January 22, 2019
I am also *dying* that Chris Cuomo is responding to allegations of having a toupee.

Just dying. Can't believe this website is free. https://t.co/rfOxWuytB0

— Jules Suzdaltsev (@jules_su) January 22, 2019
Eventually, Cuomo deleted his original tweet and clarified on Twitter that he had meant to put the onus on the accuser and that Harris had no duty to "justify any such accusation."
I agree with all of this. The tweet was meant to put onus on accuser. Not Harris. That is the lesson of birtherism. Deleting original tweet to make this clear. Apologies. https://t.co/6vAHXNjDtr

— Christopher C. Cuomo (@ChrisCuomo) January 22, 2019
Deleted my original tweet because it was taken literally the opposite way that I intended it. Sen Harris has no duty to justify any such accusation, let alone a birtherism attack. You accuse, you prove. That was my point. Apologize for confusion.

— Christopher C. Cuomo (@ChrisCuomo) January 22, 2019
"You accuse, you prove," he added. "That was my point. Apologize for confusion."