WATCH: Fox News Host Asks Studio Audience How They Can Be More Effective Trump Propagandists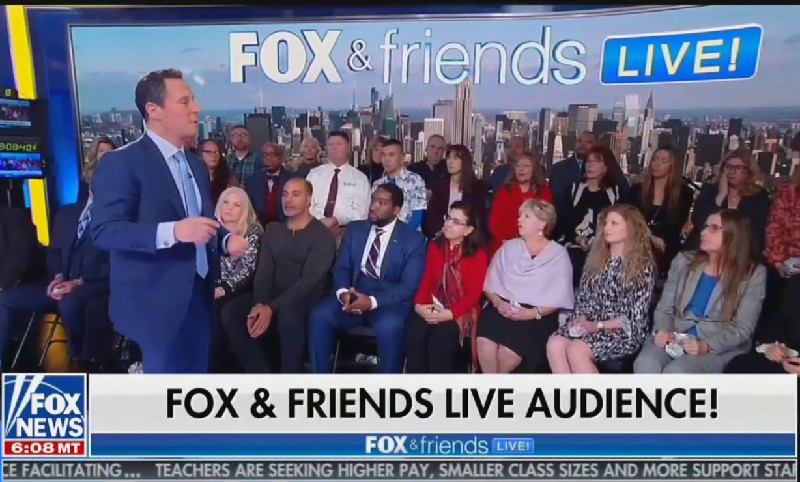 With recent polls showing the President Donald Trump's approval ratings sinking as the majority of Americans blame him for the ongoing government shutdown, Fox & Friends assembled a live studio audience Thursday Morning so they could ask them their thoughts on the impact of the shutdown and Trump's demand for border wall funding.
And at one point in the broadcast, co-host Brian Kilmeade asked the audience members to give him advice on how to be a better pro-Trump propagandist.
Acknowledging that the polls are unfavorable for the president regarding the shutdown and show that he is "losing this argument" and the "gap is only widening," Kilmeade said that the general population isn't as engaged and enthusiastic about politics as the F&F viewers are. Reiterating that Trump is losing the battle, the Fox host then posed this question to the live studio audience:
"Who here wants to weigh in on how we start persuading people who didn't vote for him that this is the right fight?"
While this has now become a cliche in the Age of Trump, just imagine the over-the-top apoplectic reaction from Fox News hosts and commentators if a CNN or MSNBC host asked a group of viewers how they could do a better job of drumming up support for President Obama or Speaker of the House Nancy Pelosi.
Audience members went on to tell Kilmeade that they should give border agents more airtime and take some more public shots at CNN's Jim Acosta for his wall report that conservatives widely mocked. Regarding border agents, Kilmeade noted that they have featured them a lot recently and went down to the border.
Watch the clip above, via Fox News.