Ilhan Omar Didn't Actually Claim Lindsey Graham Is Blackmailed Because He's Secretly Gay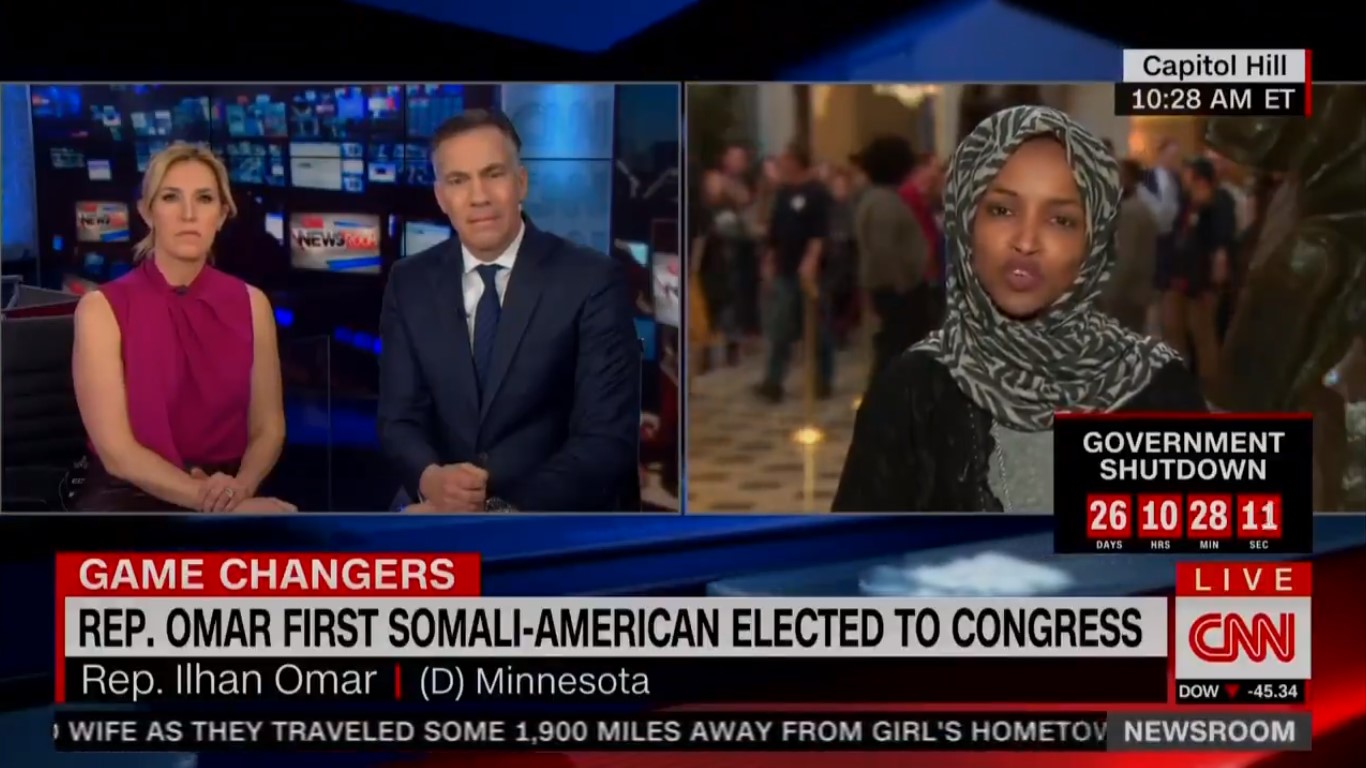 Appearing on CNN this morning, Rep. Ilhan Omar (D-MN) was pressed by hosts Jim Sciutto and Poppy Harlow to explain her tweet in which she claimed Sen. Lindsey Graham (R-SC) had been "compromised," implying he had shifted his opinion on Donald Trump due to being blackmailed.
They got to him, he is compromised! https://t.co/m8sB3EmElg

— Ilhan Omar (@IlhanMN) January 16, 2019
Omar was accused of homophobia due to the belief, especially from Republicans and conservatives, that she was pushing rumors that Graham is secretly gay and trying to keep from being outed. During her CNN interview, she was challenged to defend her accusation that the South Carolina lawmaker was compromised.
On CNN, Ilhan Omar tries to defend tweet in which she called Lindsey Graham "compromised," saying, "I'm pretty sure there's something happening w/him…he is somehow compromised"

After host points out she has no evidence for her claim, Omar walks it back, says it's "her opinion" pic.twitter.com/HefwlOE3mW

— Aaron Rupar (@atrupar) January 17, 2019
"I am pretty sure that there is something happening with him whether it is something that has to do with his funding when it comes to running for office," she said. Whether it has something to do with the polling that they might have in his district or whether it has to do with some sort of leadership within the Senate."
She went on to state that Graham "is somehow compromised to no longer stand up for the truth and to make sure that he is fighting to protect the oath that he took in serving the American people."
Sciutto and Harlow would push back hard against her assertion that Graham had been compromised, noting that she wasn't really presenting any evidence, leading her to acknowledge that this was essentially just her opinion.
One thing that Omar did not say, or even hint at, during the segment was a belief that Graham was a closeted homosexual who was being blackmailed over his sexual identity. Yet, immediately after the interview aired, many framed her comments as explicitly pushing a homophobic rumor.
Rep. Omar: "Lots of Americans" agree with me that Trump is blackmailing Sen. Graham over his homosexuality pic.twitter.com/xPMAUHSLYE

— Tom Elliott (@tomselliott) January 17, 2019
Here we have Ilhan Omar, a sitting Congresswoman, floating around a conspiracy theory with absolutely zero evidence that Lindsey Graham is secretly gay and the GOP is holding him hostage.

Unbelievable. pic.twitter.com/G25s3UF63x

— Caleb Hull (@CalebJHull) January 17, 2019
Rep. Omar on her homophobic innuendo that Graham is being blackmailed:

Omar: He is somehow compromised

CNN: Based on what evidence?

Omar: The evidence present to us

CNN: That's your opinion

Omar: An opinion based on what I believe to be visible to me. Americans agree on this pic.twitter.com/wLL8dZUlkH

— Benny (@bennyjohnson) January 17, 2019
With the video clip framed in this way, it didn't take long for others to weigh in and accuse her of saying Graham is secretly gay and compromised because of it. Mainstream reporters even jumped in on the action.
This is incredible: Ilhan Omar never made the slightest indication she was talking about Graham being gay – she specifically says she's talking about finance/polls – but a right-winger pretended she said it and now mainstream reporters are condemning her for it. pic.twitter.com/nHbmLy9ZeF

— Will Stancil (@whstancil) January 17, 2019
This is ignorant, homophobic and unacceptable, @IlhanMN. Democrats, this is becoming a very bad look. https://t.co/EhEmXKvN33

— S.E. Cupp (@secupp) January 17, 2019
Important to note she doesn't specifically mention Graham's sexuality, but this is clearly dog whistle https://t.co/nuoPyslF3w

— Jon Levine (@LevineJonathan) January 17, 2019
A rabid anti-Semite peddling insane conspiracy theories, yet still getting off the hook completely because she's a Democrat? I'm shocked. https://t.co/A4kldN5xfL

— Sean Davis (@seanmdav) January 17, 2019
The best part about this clip is that it begins with Omar offering some unobjectionable bromide about "inclusive societies." https://t.co/gHW6hYWt6P

— Noah Rothman (@NoahCRothman) January 17, 2019
But as others noted, there was nothing in the clip that even brought up Graham's sexuality and that it was irresponsible to suggest she said that, even if one may *feel* like that was what she was hinting at.
Is there another clip that includes a "homosexuality" part?

— Daniel Dale (@ddale8) January 17, 2019
She mentions nothing about homosexuality in this clip. If you see conservatives quote-tweeting this into your timeline, know that they didn't actually watch it and they just have a carnal instinct to dogpile a Muslim woman https://t.co/4smjkQ1NhP

— Jared Holt (@jaredlholt) January 17, 2019
ME: This is an outrage!
ALSO ME: [Actually watched the video.]
ME YET AGAIN: ????
FINAL ME: This is not what this video shows. Like, at all. https://t.co/oGxg4Ylx1u

— Daniel W. Drezner (@dandrezner) January 17, 2019
It's not "semantics" to point out that Omar never said this! Good lord. https://t.co/8S0OrT5knE

— Dave Weigel (@daveweigel) January 17, 2019
And for her part, Omar took to Twitter to state that her tweet has "nothing to do with his sexuality and everything to do with his blind cooperation w/ Trump," adding that this narrative formed because the right thinks homosexuality is compromising.
Yes, because the Right thinks being homosexual is "compromising".

Well I have news for them, being LGBTQ+ isn't something we should be ashamed of!

Y'all know my tweet had nothing to do with his sexuality and everything to do with his blind cooperation w/ Trump.

Let's focus! https://t.co/6FSvjnm8xi

— Ilhan Omar (@IlhanMN) January 17, 2019
Again, all one has to do is actually watch the clip and see she says nothing about Graham's sexuality and doesn't even come close to implying it has anything to do with her feelings that he is compromised. One can criticize her for pushing an unfounded conspiracy theory that a fellow lawmaker is being blackmailed to change his positions towards Trump, but it should be left there. She hasn't even hinted at usubstantiated rumors over his sexuality.