Hannity Falls To Last Place In 9 PM Demo Tuesday Night, Maddow Once Again Dominates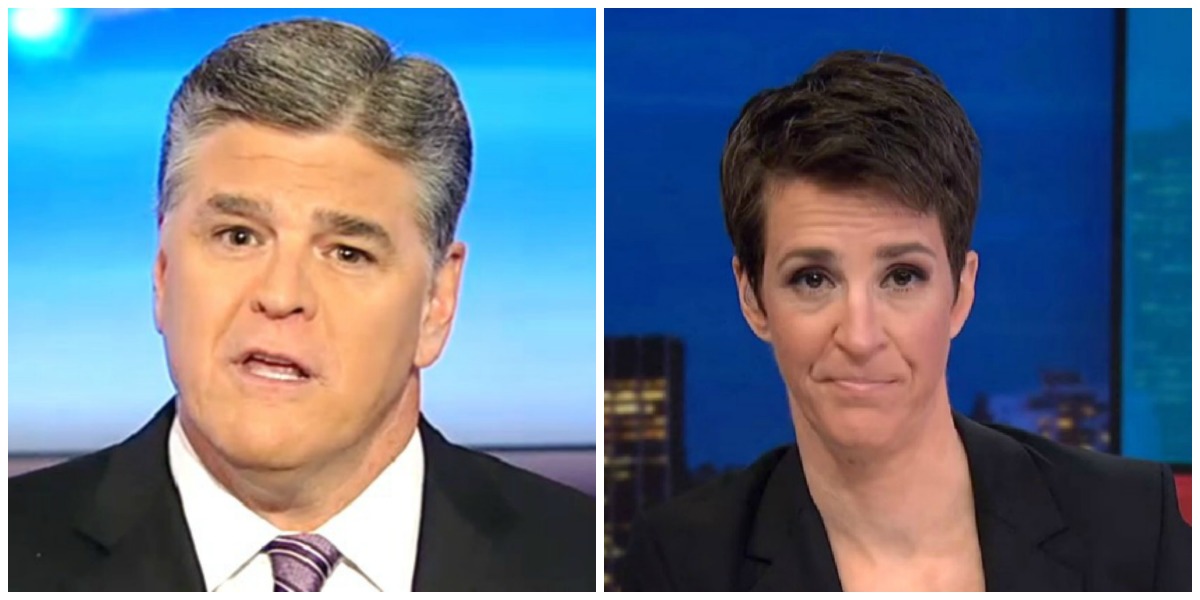 MSNBC's The Rachel Maddow Show was once again the most-watched cable news program, leading in both the key 25-54 demographic and total viewership Tuesday night. Meanwhile, Fox News' Hannity — 2018's top-rated show in cable news — continued its struggles, placing last in its time slot in the demo while drawing over a half-million fewer viewers than Maddow.
According to Nielsen, MSNBC led the way with 2.584 million total viewers and 527,000 in the demo during the 8 PM to 11 PM primetime hours. CNN placed second in the demo with 436,000 while drawing 1.260 million viewers overall. Fox News averaged a total audience of 2.442 million and 410,000 in the 25-54 demographic.
In the daytime 9 AM to 5 PM slot, which was largely focused on the William Barr confirmation hearing, Fox News and MSNBC finished neck and neck. Fox pulled in 228,000 demo viewers and 1.577 million viewers overall. MSNBC drew a total audience of 1.456 million and 217,000 in the demographic. CNN attracted 205,000 demographic viewers and 852,000 viewers overall.
Maddow was easily the top-rated cable news program, drawing 3.274 million total viewers and 684,000 in the key demo. Fox News' Tucker Carlson Tonight placed second in both categories, grabbing 486,000 demo viewers and 2.665 million viewers overall.
Hannity, which airs opposite Maddow, placed fourth overall in total viewership (2.587 million) and ninth in the demo (406,000). The show also placed behind Maddow and CNN's Cuomo Prime Time (414,000) during the 9 PM hour in the key demographic. MSNBC's The Last Word led its 10 PM time slot across the board, finishing fifth overall in total viewership (2.417 million) and third in the demo (485,000).
The top-rated program on CNN was Anderson Cooper 360, which drew 1.396 million total viewers and 464,000 in the key demo.