Rudy Giuliani: 'I Never Said There Was No Collusion Between' Trump Campaign And Russia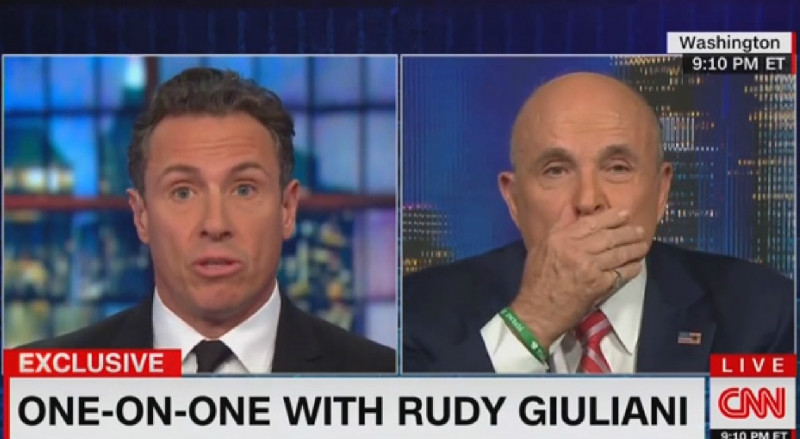 With Special Counsel Robert Mueller confirming that Konstantin Kilimnik, a Russian associate for former Trump campaign chair Paul Manafort, is a central focus of the special counsel's grand jury investigation, Trump attorney Rudy Giuliani moved the goalposts once again and claimed that he's never said that members of the Trump campaign didn't engage in collusion.
Appearing on CNN's Cuomo Prime Time Wednesday night, Giuliani began by railing against the FBI as a biased anti-Trump organization before complaining about the media's coverage of the Mueller investigation, stating that the "amount of false reporting about this case is despicable."
"Mr. Mayor, false reporting is saying that nobody in the campaign had any contacts with Russia," anchor Chris Cuomo retorted. "False reporting is saying that there has been no suggestion of any kind of collusion between the campaign and any Russians. Because now you have Paul Manafort giving polling data that winds up leading to this coincidence."
The former New York City mayor shot back, claiming he has never said collusion didn't take place.
"Well, you just misstated my — I never said there was no collusion between the campaign or between people in the campaign," Giuliani exclaimed.
"Yes, you have," a befuddled Cuomo said in return.
Giuliani insisted that he had not but what he had stated in the past was that there was no evidence that President Trump had committed the only possible crime in this case — conspiring with the Russians to hack the DNC.
Later on, after arguing over whether or not Trump had ever said his campaign did not collude with Russia to impact the 2016 election, Giuliani offered up another questionable explanation about what constitutes collusion. Regarding Manafort sharing internal polling data with Kilimnik during the presidential campaign, America's Mayor brushed it off as no big deal.
Check out this exchange:
---
CUOMO: There are two coincidences to answer for. The first is Manafort is viable for the campaign at the time that's going on. And then he's viable at the head of the campaign giving polling data that winds up having the same faces and places targeted by the campaign that are targeted by Russian trolls. How is that no collusion?
GIULIANI: It's not collusion.
CUOMO: How is it not?
GIULIANI: Because polling data is given to everybody.
CUOMO: What?!
GIULIANI: I mean, he shouldn't have given it to them.
CUOMO: So it's not given to everybody.
GIULIANI: And I can't speak for Paul Manafort. Of course it is! First of all, the most inappropriate, the most inaccurate stuff is internal polling data. All of it is cooked —
---
Oh, and he wasn't done. Not by a long shot. Later in the multi-segment interview, Giuliani further noted that "if the collusion happened, it happened a long time ago." Additionally, "there's no chance it happened with the President of the United States" but he has "no idea what other people were doing."
Only the best people, indeed.
Watch the clip above, via CNN.