Trump's Primetime Oval Office Address Loses To Democratic Response In Ratings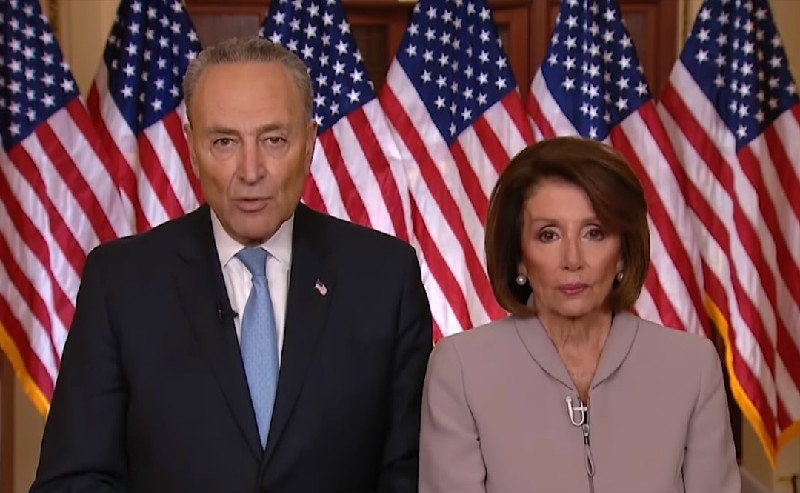 Well, this is gonna sting a bit.
With all the major broadcast and cable news networks handing over primetime broadcasting space Tuesday night to President Donald Trump so he could deliver a purely political appeal to rally public support for the border wall, it was expected that tens of millions of Americans would tune in. It may not have been expected, however, that Trump would be outdrawn by Chuck and Nancy.
According to preliminary Nielsen numbers, the four broadcast networks — ABC, CBS, NBC, FOX — and three cable news channels — CNN, Fox News, MSNBC — had a combined 28.1 household rating for Trump's speech, which aired from 9:00 to 9:15 PM ET.
Meanwhile, the Democratic response to Trump's speech, delivered by Speaker of the House Nancy Pelosi and Senate Minority Leader Chuck Schumer, delivered a combined household rating of 29.1, representing a four percent increase. Their response was delivered in the next quarter-hour, 9:15 to 9:30 PM ET.
Fox Sports Executive Vice President Michael Mulvihill pointed out that the Democrats' response really spiked on CNN and MSNBC while rating the same as Trump's on Fox News.
Last night's Democratic response (9:15-9:30) outrated the POTUS address (9-9:15) by +26% on CNN, +15% on MSNBC, +3% on ABC.

POTUS speech outrated Dem response by +3% on CBS.

The two rated equally on NBC, FOX, FNC.

— Michael Mulvihill (@mulvihill79) January 9, 2019
Numbers are subject to change when final ratings are released by Nielsen later on Wednesday. But what is really interesting here is that interest appeared to grow after the speech started and the Democrats delivered their response. Typically, it is the other way around with presidential addresses.
Considering that our president is positively obsessed with ratings, this almost certainly won't sit well with him.