Fox's Judge Napolitano: Latest Manafort Bombshell 'Would Fit Into' Category Of Collusion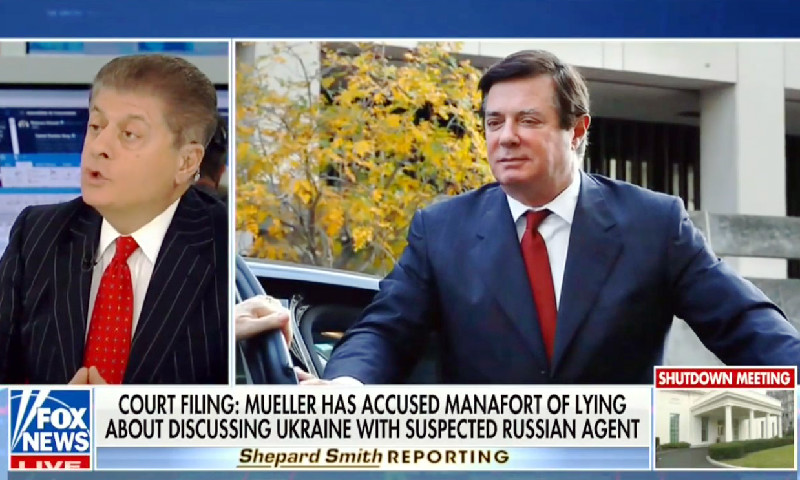 Reacting to the bombshell revelations that former Trump campaign chief Paul Manafort provided internal polling data to a Russian-intelligence-tied business associate with ties to Vladimir Putin during the 2016 presidential election, Fox News senior judicial analyst Judge Andrew Napolitano said that it appears that Manafort was guilty of conspiracy and that one could say there was collusion with the Russians.
In a court filing that was unsealed Tuesday, Manafort's lawyers accidentally disclosed that Manafort not only provided the polling information to Konstantin V. Kilimnik during the presidential race but that he also discussed a Ukranian peace plan. During the campaign and first days of Trump's presidency, Russia was shopping around proposals to lessen sanctions related to the Russian invasion and annexation of Crimea.
With the Manafort disclosure coming on the heels of fellow Trump Tower meeting attendee Natalia V. Veselnitskaya being charged in another case that revealed her close alliance with the Russian government, Napolitano told Fox News anchor Shepard Smith that the latest court filings show "Mueller can demonstrate to a court without the testimony of Paul Manafort that the campaign had a connection to Russian intelligence and the connection involved information going from the campaign to the Russians."
He added, "The question is, was this in return for a promise of something from the Russians, and did the candidate, now the president, know about it."
Smith wanted to know if that would be conspiracy.
"Yes, conspiracy is an agreement to commit a crime," the judge responded. "The crime would be to receive something of value from a foreign person, or government, during a campaign. Whether or not the thing of value arrives, the agreement is what is the crime."
He continued, "There was apparently an agreement between the campaign's manager and this Russian oligarch. What the oligarch did with the material we gave him, who the campaign manager Manafort spoke to in the campaign, Bob Mueller yet to reveal."
After Smith noted that it is a "curious lie" but one would guess Manafort stuck to it because he didn't want to admit that he handed stuff over to Putin's man, Napolitano said that is especially true when you have Trump repeatedly asserting that there's "no collusion with the Russians."
"Well, if this is collusion — though collusion isn't a crime — this would be collusion?" Smith asked.
Napolitano reiterated that conspiracy is the crime and collusion is a "nonlegal term" before agreeing with Smith that this "would probably fit into that category" of collusion. He went on to note that when Manafort was convicted of financial crimes, Trump exclaimed that those crimes occurred years ago before Manafort joined his campaign. These incidents, however, occurred in the heat of the presidential race, Napolitano pointed out.
He finished the segment by explaining that this is all known because of the lawyers' screwup and they aren't even going to challenge Mueller's allegations that Manafort lied to federal prosecutors following his guilty plea.
Watch the clip above, via Fox News.