WikiLeaks Warns Reporters Not To Call Julian Assange A Smelly Russian Asset Who Bleaches His Hair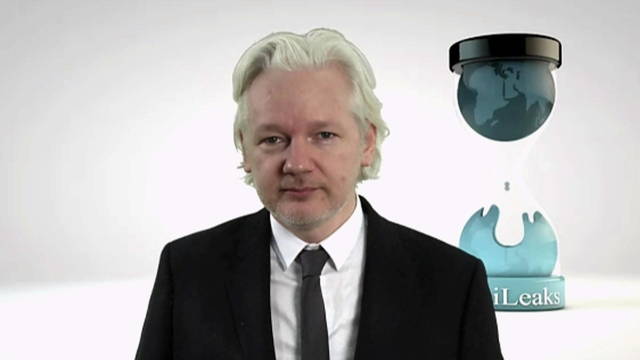 We're going to go out on a limb and say WikiLeaks has never heard of the Streisand Effect.
On Sunday, the organization best known for publishing confidential information it receives from anonymous sources sent a 5,000-word email to several media outlets advising reporters of a list of 140 "false and defamatory" statements not to make about WikiLeaks founder Julian Assange. Per Reuters, the email was marked "Confidential legal communication. Not for publication."
"There is a pervasive climate of inaccurate claims about WikiLeaks and Julian Assange, including purposeful fabrications planted in large and otherwise 'reputable' media outlets," the email reportedly read. "Consequently journalists and publishers have a clear responsibility to carefully fact-check from primary sources and to consult the following list to ensure they are not spreading, and have not spread, defamatory falsehoods about WikiLeaks or Julian Assange."
And what, exactly, are these inaccurate claims that WikiLeaks doesn't want to be repeated in the press about Assange?
Well, some items are just a reassertion of previous denials Assange has made over the past couple of years, such as stating that it is false to say he is an agent of any intelligence service or that he has ever worked with or been close to the Russian government. Assange and his organization have been under fire since the 2016 presidential election for publishing stolen Democratic emails obtained by Russian hackers.
But others are more obscure and hadn't been widely reported or discussed in the media. Some of the standouts are claims that it is untrue that Assange has poor personal hygiene, that he has ever neglected an animal, and that he bleaches his hair. Because, obviously, one way to make sure journalists don't talk about you being a stinky guy who abuses cats is to tell newspapers and magazines not to ever discuss it.
Assange has been stuck in the Ecuadorian embassy in London since 2012 as he has sought protection from extradition on criminal charges from various countries. While it is unclear what instigated this email, Reuters reported that WikiLeaks highlighted the Guardian for publishing what it called a false article on Assange. Back in November, the paper reported that Assange had met with former Trump campaign manager Paul Manafort several times before WikiLeaks published the hacked emails.