Watch Two Conservative Dudes Have Very Normal Debate Over Whether Or Not Ocasio-Cortez Is Hot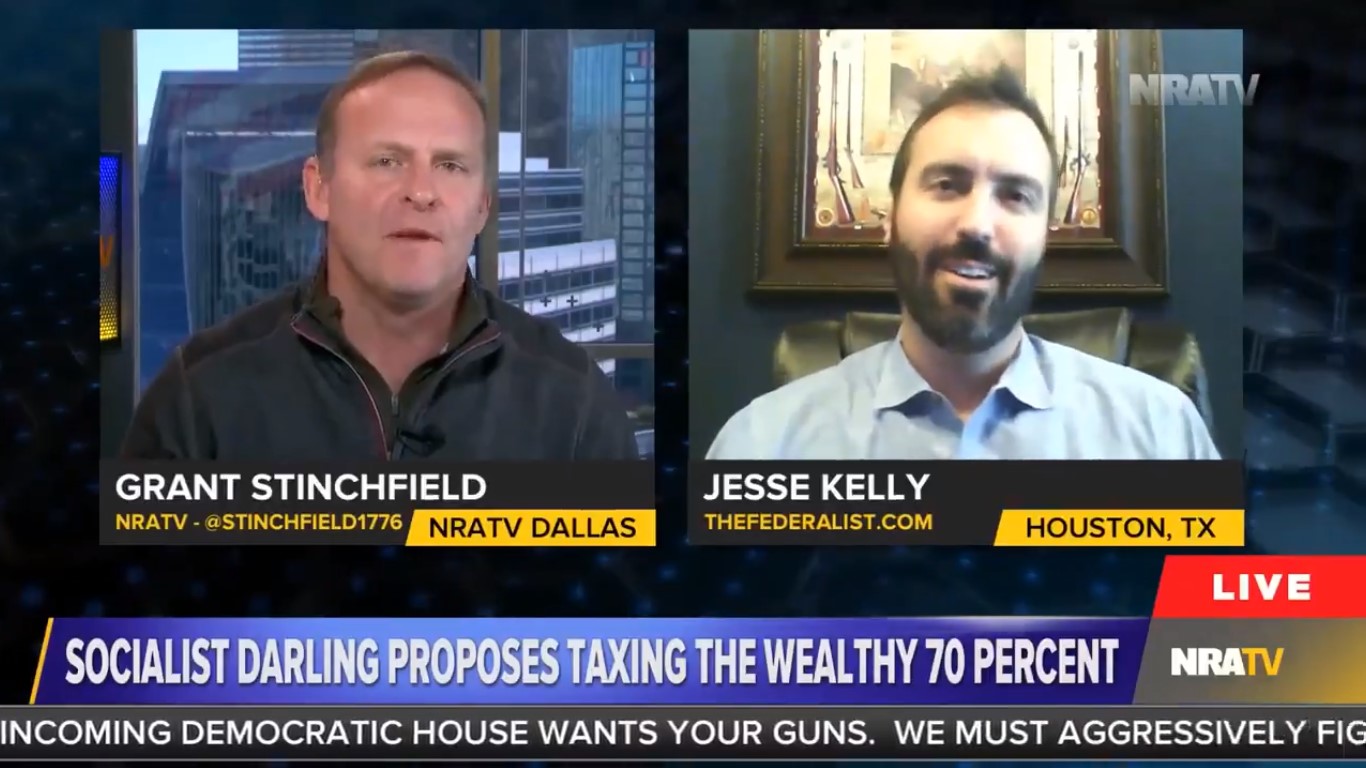 If you ever thought to yourself that one of the reasons new Democratic Congresswoman Alexandria Ocasio-Cortez lives rent-free in countless conservatives' heads is due to the fact that they secretly fantasize about sleeping with her, a recent NRATV segment went a long way towards confirming that theory.
A day after a hilariously ham-handed attempt by right-wing trolls to dunk on her by sharing a video of her dancing in college blew up in their faces, NRATV host Grant Stinchfield brought on Federalist writer Jesse Kelly to talk about the progressive superstar, mainly her upcoming appearance on 60 Minutes in which she proposes raising taxes on the mega-wealthy to pay for the "Green New Deal."
After Stinchfield railed against her for a bit, he threw it to Kelly, who immediately and creepily remarked that "she's kind of cute, though."
Stinchfield reacted by asking his producers to throw up a still image of Ocasio-Cortez with her eyes wide open, asking Kelly to tell him "that is cute" while noting that he knows that the conservative pundit has a thing for Sen. Kamala Harris (D-CA) too.
"There is nothing wrong with a little bit of crazy, man," Kelly responded, sounding more than a bit stalkerish. "A little bit of crazy can be fun.I'm not talking about marrying her, I'm just talking about a date or two, she looks kind of cute."
The NRATV host referred back to the photo of AOC, asking Kelly if he could "imagine that look when she's mad at you because you didn't take out the trash."
After Kelly noted that you'd have to "do everything you could to lose your hearing" when it came to the progressive lawmaker, Stinchfield said he agreed that "there is nothing wrong with Alexandria Ocasio-Cortez's looks."
"She may get a crazy face when she starts talking about taxes, that I see," he added,
Watch the clip below, via Media Matters.