Fox's Dana Perino Predicts Shutdown Will Last Until State Of The Union: Trump's 'Going To Dig In His Heels'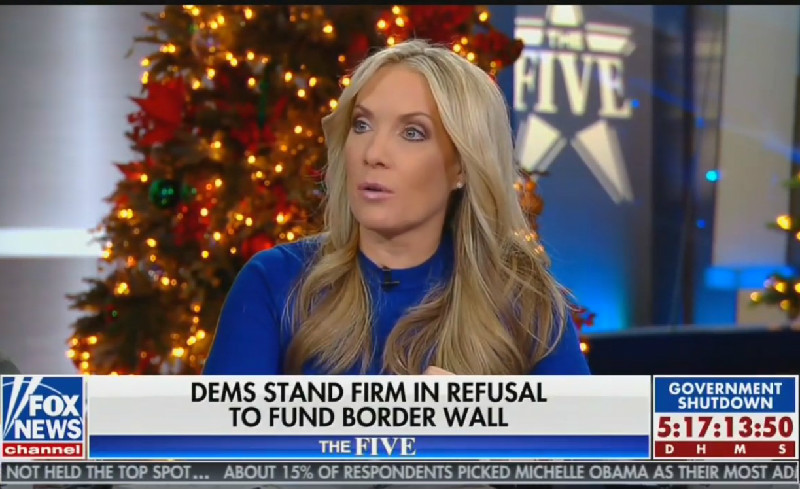 With the partial federal government shutdown now set to go into the new year after Congressional lawmakers were told not to expect any votes this week, Fox News host Dana Perino said that she thinks President Donald Trump is going to "dig in his heels" and keep the shutdown going for at least another month.
During a panel discussion on Trump's demands for border wall funding in a new spending bill and his insistence that Democrats are only denying the funding because he wants it, Perino stated that she thinks "this could go on for a very long time." After citing a recent statement by House Freedom Caucus chair Mark Meadows, the Five co-host then offered up her theory.
"I think it could go on until the State of the Union that usually happens at the end of the month," Perino said. "Remember President Trump made a secret trip over there — we will talk about later in the show. He plans to go see the border."
She continued, "He was going to go see the border and take the press with him. He said I think I'm going to go right before the State of the Union. I think that it could go on that long because the president is going to dig in his heels."
Perino added that she was just spitballing but figured this would be the case because the Democrats will take over the House at the beginning of January and then the State of the Union takes place a few weeks later.
"I think it's longer than that," co-host Lawrence Jones said in response, further noting that Trump "doesn't have a choice." Token liberal panelist Marie Harf wanted to know if it would be a good idea for the president to veto a spending bill passed by the House and Senate, only for Jones to reiterate his belief that the president has no choice.
"If he doesn't deliver on this piece of his campaign promise he doesn't win 2020," Jones declared. "The president was prepared to cave last week there was multiple reports of it he was bringing everybody, in the moment everyone started attacking him and his base, it was the first time I ever seen the president fearful."
The State of the Union address will take place on January 30th, 2019.
Watch the clip above, via Fox News.