Tucker Says He Won't Be 'Intimidated' By Advertiser Exodus, Doubles Down On Immigration Claims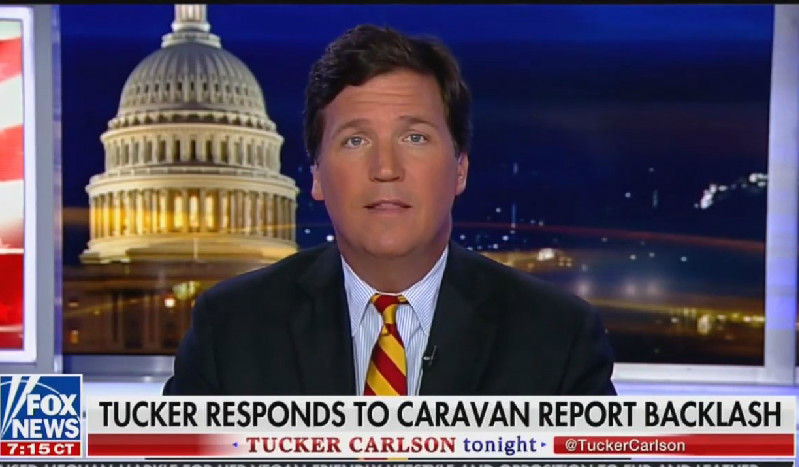 During Monday night's broadcast of Tucker Carlson Tonight, Fox News host Tucker Carlson addressed the advertiser backlash against his show in response to a segment of his last week in which he claimed immigration makes this country "poorer and dirtier." The conservative commentator took a defiant stance, stating that he won't be "intimidated" by the boycott effort while fully defending his remarks.
In case you missed it, multiple advertisers have distanced themselves from the program following a concerted effort by progressive activists after liberal media watchdog Media Matters for America spotlighted Tucker's segment Thursday night. After prominent insurance company Pacific Life announced they were suspending their relationship with Carlson on Friday, becoming the first sponsor to bolt, Fox News released a statement lashing out at "left wing advocacy groups" who were attempting to "stifle free speech."
After devoting his opening segment to cheerleading for a border wall along the southern border, Carlson spent a few minutes defending his "poorer and dirtier" claim while blasting liberals and almost laughably positioning himself as an environmentalist. Pointing to an interview he had with Tijuana delegate Genaro Lopez last week about the issues surrounding the Central Amerian migrant caravan in the border town, Carlson summarized what Lopez described as "trashing the street, doing drugs in public, breaking into homes."
"That's not at all what CNN promised us," Carlson mockingly said before snarking, "was Genaro Lopez one of the white nationalists that The New York Times is always warning us about?"
He went on to replay his controversial remarks, claiming afterward that "nobody on the left did argue with it — they ignored it" while insisting that they only "zeroed in on the last line." Carlson then noted that what he said was true and blamed the "American left" for making Tijuana "poorer and dirtier and more divided" due to the caravan.
"The enforcers scream, 'Racist,' on Twitter until everyone gets intimidated and change the subject to the Russia investigation or some other distraction," he declared. "It won't work for this show — we're not intimidated. We plan to say what's true until the last day."
Having established himself as the ULTIMATE FREE-SPEECH WARRIOR who will tell the truths others are scared to utter, the Fox News primetime star — who regularly brushes off concerns about the environment and climate change — suddenly turned eco-warrior.
"The truth is, unregulated mass immigration has badly hurt this country's natural landscape," he stated. "Take it for the Southwestern deserts if you don't believe it. Thanks to immigration, huge swaths of the region are covered with garbage and waste that degrade the soil and harm wildlife. And each illegal border crosser leaves 6-8 pounds of trash during the journey into our country."
He continued to complain about how much damage immigrants and migrants were doing to the environment in the Southwest before wondering aloud why the left didn't seem concerned.
"Not so long ago, environmentalists were opposed to mass immigration and they knew what the costs were," Tucker concluded. "They still know, but they don't care."
Watch the clip above, via Fox News.