'Morning Joe' Beats 'Fox & Friends' In Key Demo On Friday, MSNBC Wins Primetime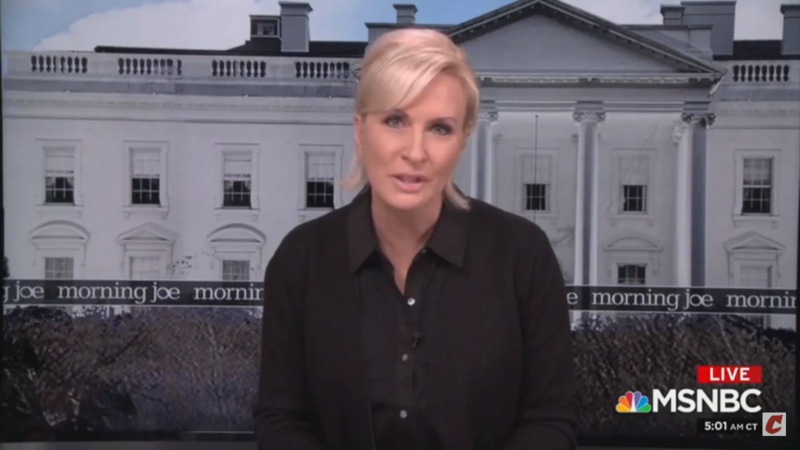 Friday morning featured Morning Joe co-host Mika Brzezinski returning to the air for the first time since her highly derided remarks about Secretary of State Mike Pompeo. And it would appear that viewers wanted to see her apologize for calling the country's top diplomat a "wannabe dictator's butt boy" as the MSNBC program won its cable news time slot in the key 25-54 demographic.
According to Nielsen, Morning Joe beat ratings stalwart Fox & Friends in the key demo during the 6 AM to 9 AM hours, 288,000 to 284,000 viewers. The Fox News morning program edged out MJ in total viewership, however, 1.438 million to 1.402 million. CNN's New Day drew 645,000 total viewers and 185,000 in the demo during the time slot.
During the 8 PM to 11 PM primetime hours, MSNBC led across the board, averaging 2.127 million viewers overall and 385,000 in the demo. Fox News pulled in 2.068 million total viewers and 364,000 in the 25-54 metric. CNN attracted a total audience of 1.221 million and 326,000 in the demo.
MSNBC's The Rachel Maddow Show was the most-watched cable news program on Friday, nabbing 2.328 million total viewers and 447,000 in the key demo. Fox's The Five placed second in total viewership (2.307 million) and sixth in the demographic (354,000).
FNC's Hannity, guest hosted by Jason Chaffetz, finished second in the demo (401,000) and fourth in total audience (2.181 million). Fox's Tucker Carlson Tonight took third in both total viewership (2.196 million) and the 25-54 demo (384,000).
The top-rated program on CNN was Cuomo Prime Time, which drew 1.423 million total viewers and 370,000 in the key demographic.