Kellyanne Conway Claims Chris Cuomo Used A 'Slur' By Saying Trump Doesn't Tell The Truth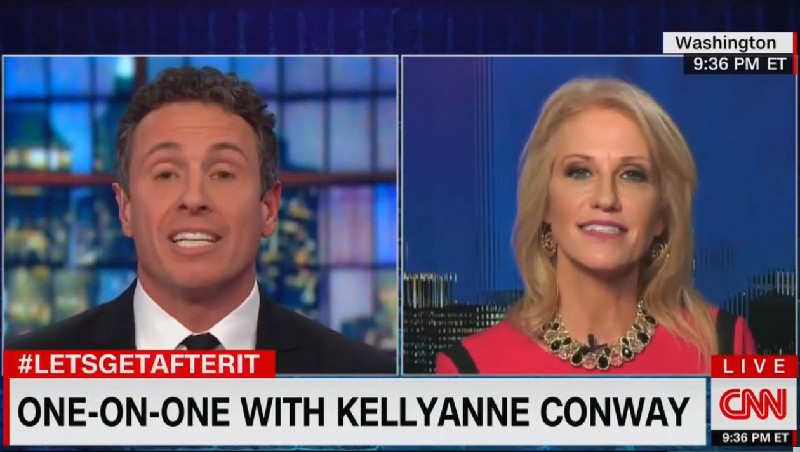 White House counselor Kellyanne Conway argued with CNN anchor Chris Cuomo towards the end of a marathon interview on Thursday night's broadcast of Cuomo Prime Time, claiming that Cuomo calling President Donald Trump a liar was a slur. Earlier in the interview, Cuomo had asked Conway if he wanted him to call her a liar, telling her "if I have to call you a liar I will."
Transcript
---
CUOMO: My job is to test the White House.
CONWAY: No, your job is to — but you, come on, you can test me, but you have to be honest about the way you do it.
CUOMO: I really think I am, I think I'm pretty transparent.
CONWAY: You're assigning — yes, I can't deny that, you are very transparent. But you look at that —
CUOMO: You mean that as a pejorative. But I mean it in terms — I know you mean it as an insult.
CONWAY: No.
CUOMO: I don't take shots at you or the president.
CONWAY: You're transparent.
CUOMO: I'm just talking about what?
CONWAY: You called the president tonight a slur that I am not going to repeat —
CUOMO: Slur? I never.
CONWAY: You say he's not telling the truth.
CUOMO: He lies a lot.
CONWAY: That's a slur. That's a slur…Today he said, true or false, today he said he never directed Michael Cohen to commit a crime.
CUOMO: I am not going to take the president at his word when he has a record of lying about these things. He didn't know about the stormy Daniels payment. He said the guy was a pr agent, then he says he's his lawyer. Then nothing happened, then we have the tape with his voice on it. The facts are overwhelming. They really are.
CONWAY: The facts are not overwhelming.
CUOMO: That's why I ask.
CONWAY: Oh, thank you, in a took you 25 minutes. It doesn't expose him to anything now.
CUOMO: It is not the law of the land, but it is the guidance of the DOJ, and until it changes, I don't know how they could indict.
---
Watch the clip above, via CNN.