Watch: Morning Joe's Mika Says Trump's Behavior Is 'Deviant' Compared To George H.W. Bush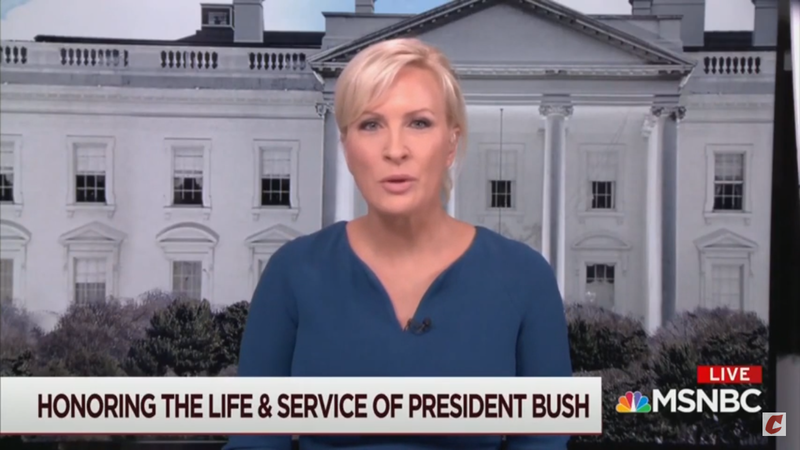 MSNBC's Mika Brzezinski has strongly criticized President Donald Trump. The Morning Joe host compared the President to the late former President George H.W. Bush, emphasizing the major differences between the two Republicans.
"President Bush's death also has done what many previously believed was impossible, it's inspired the current occupant of the White House to briefly behave in a way that's presidential, with gracious words and a declaration of an extended period of national mourning," Brzezinski said.
"But what becomes undeniably obvious with every bio run about Bush 41 is that stark contrast between these two men," she said. "Bush served in the military, treated people with respect and dignity and put country ahead of party and self time and time again over his half century in public service. Half century."
"Over the last two years deviancy has continued being defined down by this current president, his cronies, his supporters, who love telling reporters that they don't care how deviant his behavior becomes. Let's see what happens at Wednesday's memorial service. My prediction is that Trump fakes more respect for a family whose unprecedented history of public service he has repeatedly belittled. Then he goes back to making a mockery of the very office that George Bush and this nation long revered."
Trump is expected to deliver a eulogy at Bush's funeral service, though this has not been confirmed. Trump issued a series of measured statements following the former president's death, though he had criticized and mocked the Bush family in the past.
"Just as President Bush's character was set even during his earliest days at Andover with the stories that you all have told, Donald Trump remains the man, think about this, the man he was while avoiding the draft and then telling Howard Stern on the radio that sleeping around with women in New York City while avoiding sexual diseases was his own personal Vietnam – he said that," Brzezinski said.
Watch the clip above, via MSNBC.