Hannity Notably Absent From Fox News Election Coverage Following Trump Rally Appearance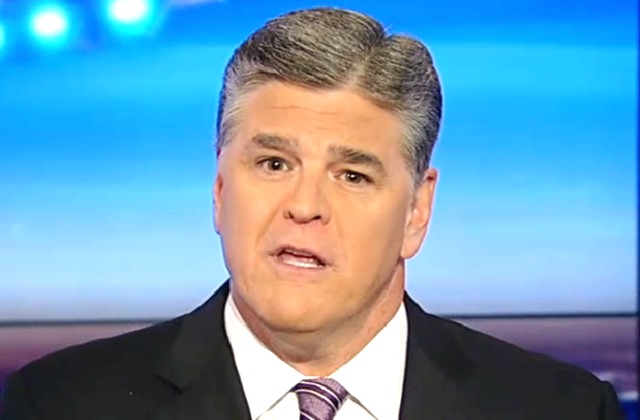 While many of the network's most prominent faces made appearances and provided analysis and commentary during Fox News' midterm election night coverage, one high-profile personality was conspicuously absent. And that absence just so happened to occur a day after the network publicly rebuked him after he brought Fox News unwanted negative attention.
With primetime stars Tucker Carlson and Laura Ingraham popping up on Fox's special broadcast throughout the night, top-rated host Sean Hannity spent the night tweeting about the races from his home. Earlier in the day, on his radio show, Hannity said that he wouldn't be on the air because it was something he asked for in his contract.
Seems Fox News may have bumped Hannity from their on-air election night coverage tonight.

Fox News previously announced Hannity would offer analysis, but a few mins ago on radio he indicated he wouldn't be on air and said it was something he insisted on in his contract.

— Angelo Carusone (@GoAngelo) November 6, 2018
However, last week, the network announced that Hannity would be part of its special coverage:
Contributions alongside Baier and MacCallum will be made by: FOX News Sunday's Chris Wallace; senior political analyst Brit Hume; The Daily Briefing's Dana Perino; The Five's Juan Williams; FOX News Radio's Guy Benson and Marie Harf; The Next Revolution's Steve Hilton; and FOX News contributor Mollie Hemingway. Primetime hosts Sean Hannity, Tucker Carlson and Laura Ingraham will also provide commentary and insight on the latest developments throughout the evening.
Shortly after the network's press release, Hannity said on air that he would be spending the night at home "drinking heavily" while watching the returns come in, "either celebrating or in misery." Despite this comment, Fox didn't publicly change its schedule.
Hannity: "Bill Hemmer, thank you. We'll be watching you on election night. I'll be home drinking heavily, depending either celebrating or in misery, one or the other." pic.twitter.com/e4cfd8HvaZ

— Contemptor (@TheContemptor) November 2, 2018
The Fox News host's absence was noticed right away by CNN senior media correspondent Brian Stelter.
Fox News originally said that Sean Hannity would contribute to election night coverage, just like his fellow prime time hosts. But only Carlson and Ingraham are on tonight. Hannity apparently insists this was his decision.

— Brian Stelter (@brianstelter) November 7, 2018
Hannity off the air on a historic night, and still no explanation from Fox. https://t.co/cS4AYJF1Uu

— Brian Stelter (@brianstelter) November 7, 2018
When reached for comment on Hannity not appearing on the election night broadcast, a Fox News spokesperson pointed to Hannity's Tuesday radio comments.
Hannity's election night no-show follows the pro-Trump host's appearance at the president's Missouri campaign rally on Monday night. Prior to the rally, the Trump campaign promoted a "special guest" appearance by Hannity, causing both the conservative commentator and Fox News to insist that Hannity was only going to the rally to broadcast his show and interview the president. Hannity added that he would "not be on stage campaigning" for the president.
Meanwhile, after the interview and during the president's rally, Trump called Hannity up to the stage and the Fox News star pointed to the press in the arena and called them "fake news." He also heaped praise upon the president and boasted about the administration's record. Hannity's on-stage campaigning was immediately met with widespread outrage from others in the media.
The network would later admonish Hannity and fellow Fox News host Jeanine Pirro for taking the stage at the rally, saying it "does not condone any talent participating in campaign events" and that this was "an unfortunate distraction and has been addressed." Hannity claimed he was "surprised" by the president's invitation "yet honored" his request, adding that he was not referencing his fellow Fox colleagues when he called the media "fake news."