'So When Are You Going To Start?' Stelter Asks Trump About His Call For Americans To Unify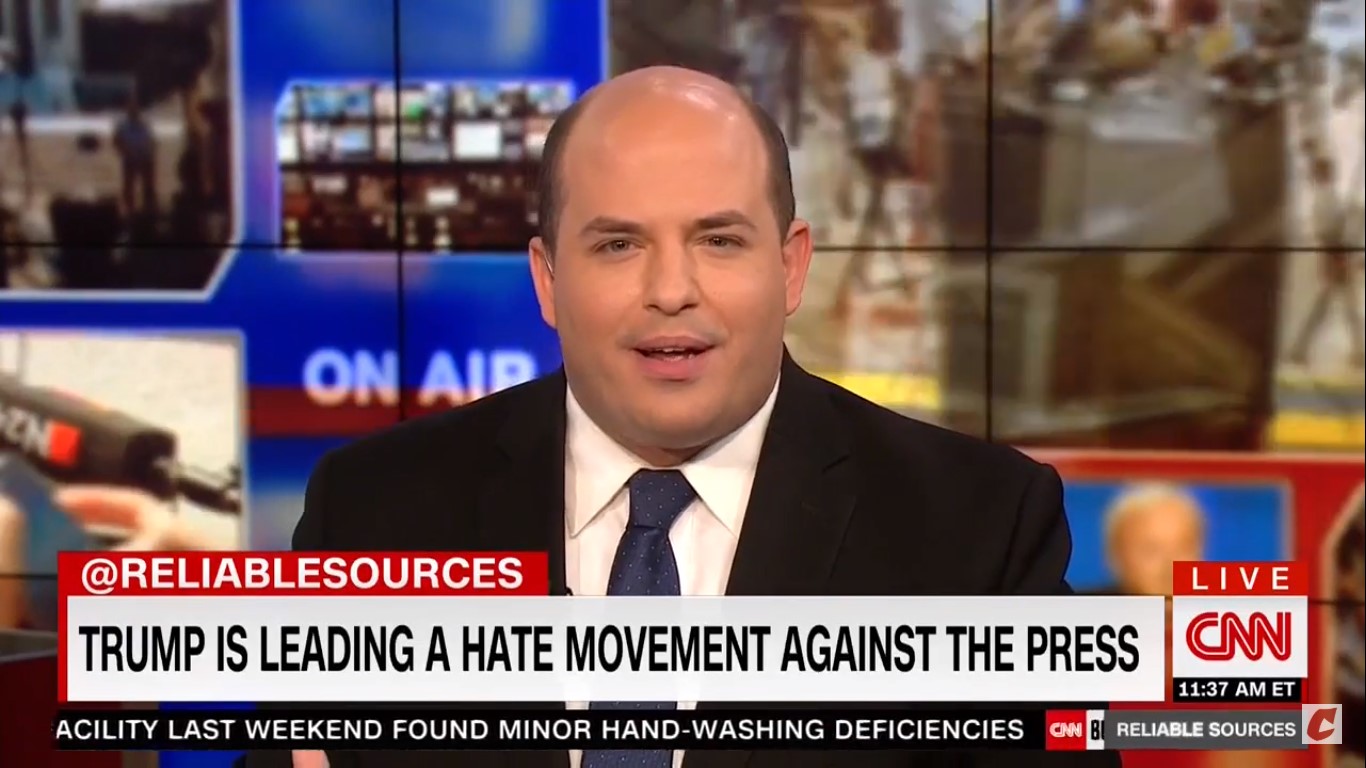 During an essay on today's Reliable Sources, CNN senior media correspondent Brian Stelter recounted his experience at a Trump campaign rally in Charlotte last week in the wake of a spate of bombs being sent to high-profile Democrats and CNN from an unhinged Trump fan. He noted that while the president went through the motions of calling for unity in the midst of right-wing violence, Trump did nothing to tamp down the anger from his cheering fans and was instead "fanning the flames."
Pointing out that hours before his rally on Friday the president slammed CNN on Twitter and suggested the "bomb stuff" was a false flag by Democrats, Stelter brought up how the press were treated like zoo animals by being placed in a pen at the arena. After highlighting his personal experiences with the rally-goers and noting that while many see the rallies as just a pro-wrestling type of performance, others really believe the president's rhetoric.
"And that's the heart of the problem," the media analyst bemoaned. "Trump is leading a hate movement against the media. I mean, he kept it up all this week. No, not everybody in his crowd believes it, but some do."
Stelter went on to play video from inside the arena showing Trump supporters loudly jeering and shouting "CNN sucks" when Trump said the media needed to change its tone to help unify the nation following these attacks.
"What's newsworthy is what Trump didn't do," he said. "He didn't try to tamp down the jeers of CNN after a week of bombs in the mail. Instead, he soaked up the jeers, he reveled in the chants."
Stelter continued, "He wasn't channeling the friendly faces who came over to my earlier and said, 'We're all people, we all love each other.' He wasn't channeling the people who were asking me questions about journalism and wanted to know more. He was fanning the flames and not just about the media either. When he tells his scary stories about illegal immigration and he rails against Democrats, he's in Fox News pundit mode, not president mode."
The CNN host ended his monologue by asking the president a question.
"Saturday, the president rightly tweeted about the evil attack in Pittsburgh," Stelter declared, referencing the horrific synagogue shooting that left 11 dead. "He said we must unite to conquer hate. Yes, so when are you going to start?"
Watch the clip above, via CNN.