Charlie Kirk Tells Taylor Swift To 'Stay Away From Politics'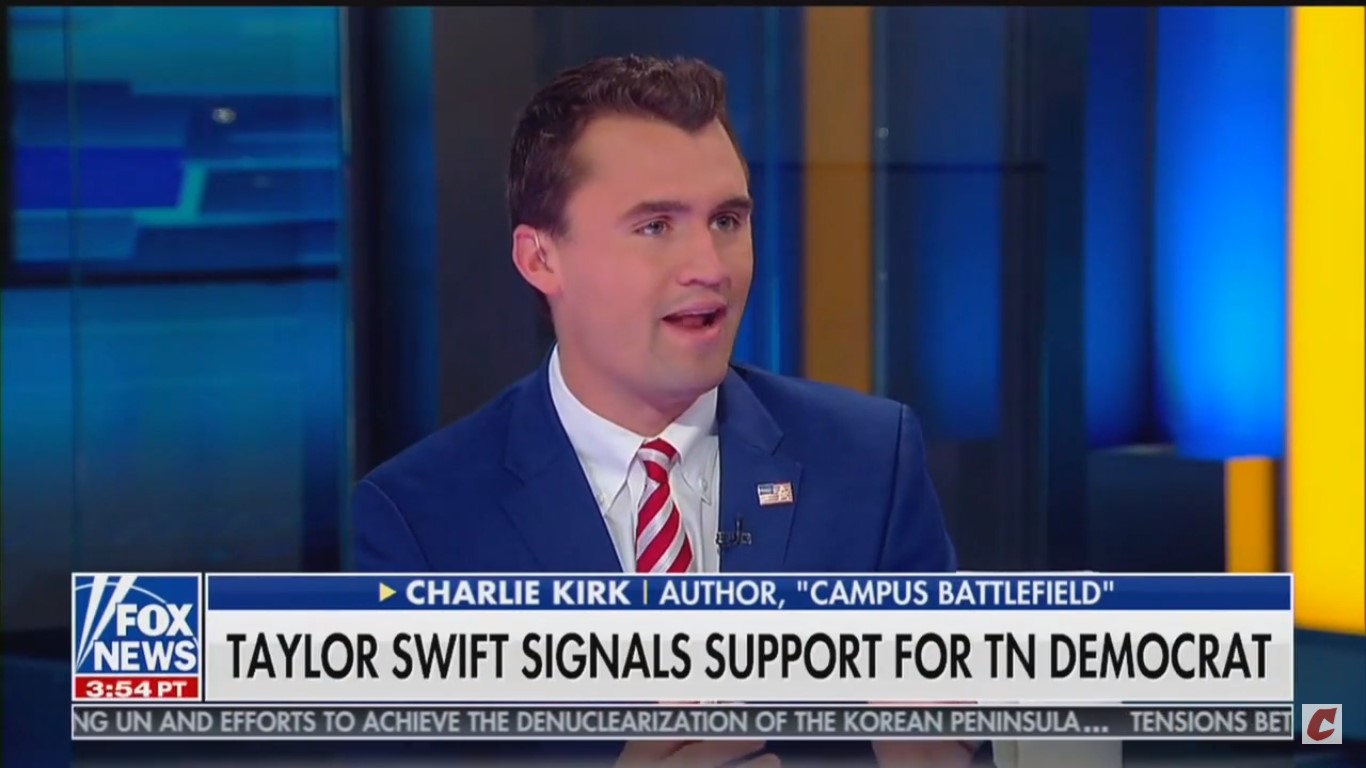 One of the key tenets of Trumpism is a complete and utter lack of shame.
Turning Point USA founder Charlie Kirk, who has become Kanye West's best friend in recent months after the rap superstar donned a MAGA cap and declared that he loved the way TPUSA's Candace Owens thinks, showed up on Fox & Friends this morning to weigh in on Taylor Swift's endorsement of Democratic candidates in Tennessee.
And the man who has been riding West's coattails to bolster his own profile told the pop megastar to "stay away from politics."
"This is what I used to love about Taylor Swift," Kirk told co-host Steve Doocy. "She stayed away from politics. All about music and female empowerment. She says the more I learn about Marsha Blackburn's record in Congress I can't support her. Maybe she should actually learn about her record in Congress."
Kirk then suggested that Swift didn't actually write her Instagram post announcing the endorsements, adding that she "probably got some very bad information" on Blackburn. Doocy and Kirk went on to wonder aloud if the singer knew that Democratic Senate candidate Phil Bredesen expressed his support for Brett Kavanaugh.
"So look Taylor Swift, I love your music," Kirk declared. "Personally, Kanye West, I'm a bigger fan of his. Stay away from politics."
The two men would end their Swift discussion by bemoaning her message to Tennessee to go out and register to vote, wishing that "there would have been some form of neutrality where she went about this."
Remember, one of the longstanding rules of the Conservative Entertainment Complex is that celebrities' political opinions are worthless unless they fall on the right, in which then they are celebrated as brave truth-tellers. Meanwhile, Kirk's warning to Swift to stay out of the political arena comes after the bumper-sticker conservative tweeted out that Swift's "career has never recovered since Kanye ended it," obviously referencing the 2009 VMA interruption by West when Swift won the best video award.
Hey @taylorswift13 –

You just endorsed a Democrat in the Tennessee senate race with a ridiculous statement saying Marsha Blackburn, a woman, is against women

You have absolutely no idea what you are talking about

Your career has never recovered since Kanye ended it

— Charlie Kirk (@charliekirk11) October 8, 2018
If by "career has never recovered" Kirk means "has become the biggest star in music," he was right on target.
Watch the clip above, via Fox News.