Mazie Hirono: It's 'Insulting' For Susan Collins To Say Christine Ford Is Mistaken On Kavanaugh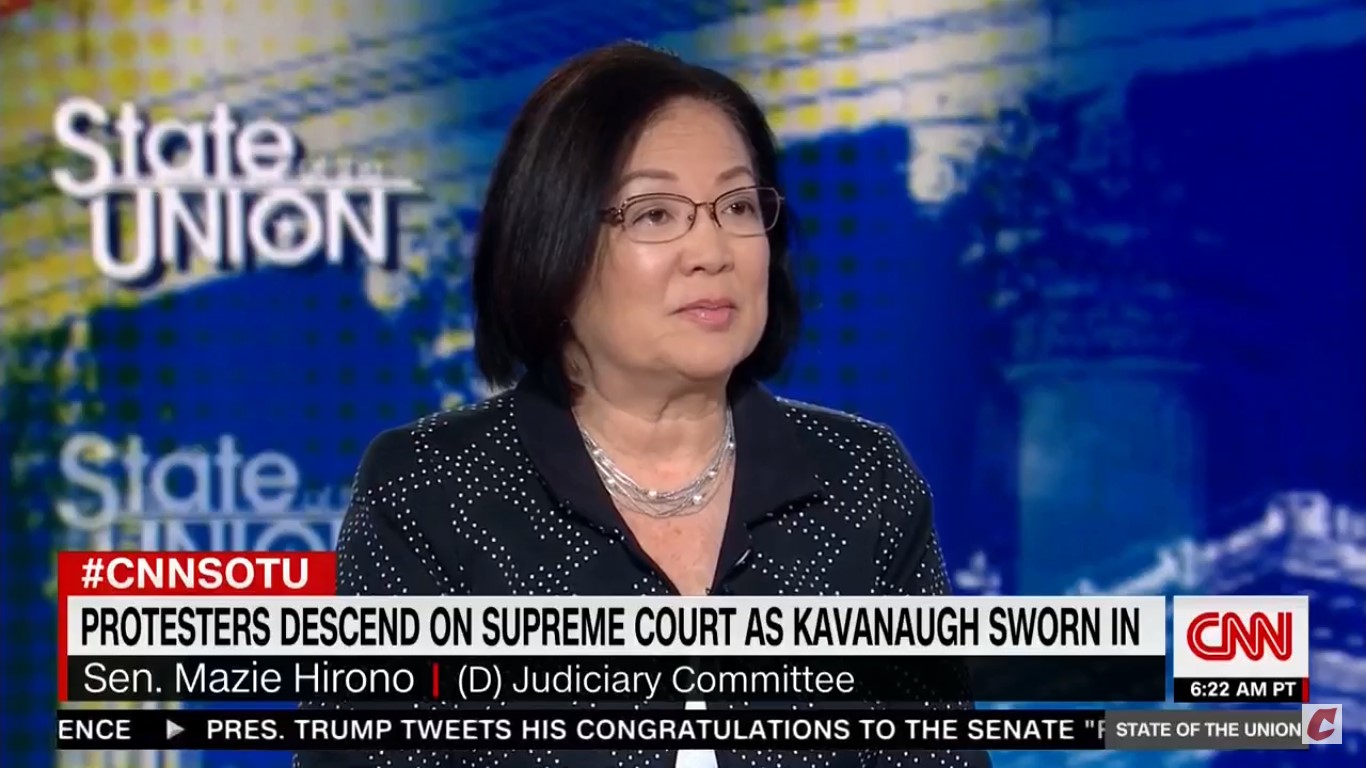 Following Sen. Susan Collins' CNN interview in which she doubled down on her assertion that Christine Blasey Ford is mistaken in her belief that newly-confirmed Supreme Court Justice Brett Kavanaugh sexually assaulted her, Collins' Senate colleague Mazie Hirono blasted the Maine Republican for "insulting" Ford.
Appearing on State of the Union immediately following Collins' hit, the Hawaii Democrat was asked by guest host Dana Bash about Collins' certainty that Kavanaugh didn't attack Ford when they were both in high school.
"She said she thinks that Dr. Ford thinks that she was assaulted, which is even more insulting than saying that she gave a very credible account," Hirono answered. "I certainly believe Dr. Ford. Anyone watching her testimony would know, I would say, would conclude that she was being very truthful, and the one thing she that recollects with 100 percent accuracy is that Judge Kavanaugh — Brett Kavanaugh assaulted her."
After Bash asked her if she believes that Ford was insulting to Ford, Hirono reiterated her criticism of Collins' patronizing comments towards Ford, wondering aloud what Collins is doing.
"She, herself, said she spoke to so many survivors from her state and elsewhere," Hirono added. "All of us have been hearing stories and accounts from survivors going back many, many years where they kept all these painful, traumatic accounts to themselves. this is what happens with sexual assault survivors. they do not come forward."
The Democratic lawmaker went on to point out that while Collins asserts that there's no corroboration of Ford's claims, there is "no corroboration on Brett Kavanaugh's bold assertion that he didn't do it."
Watch the clip above, via CNN.