Anderson Cooper Fires Back At Don Jr For 'Tweeting Lies' About CNN's Hurricane Coverage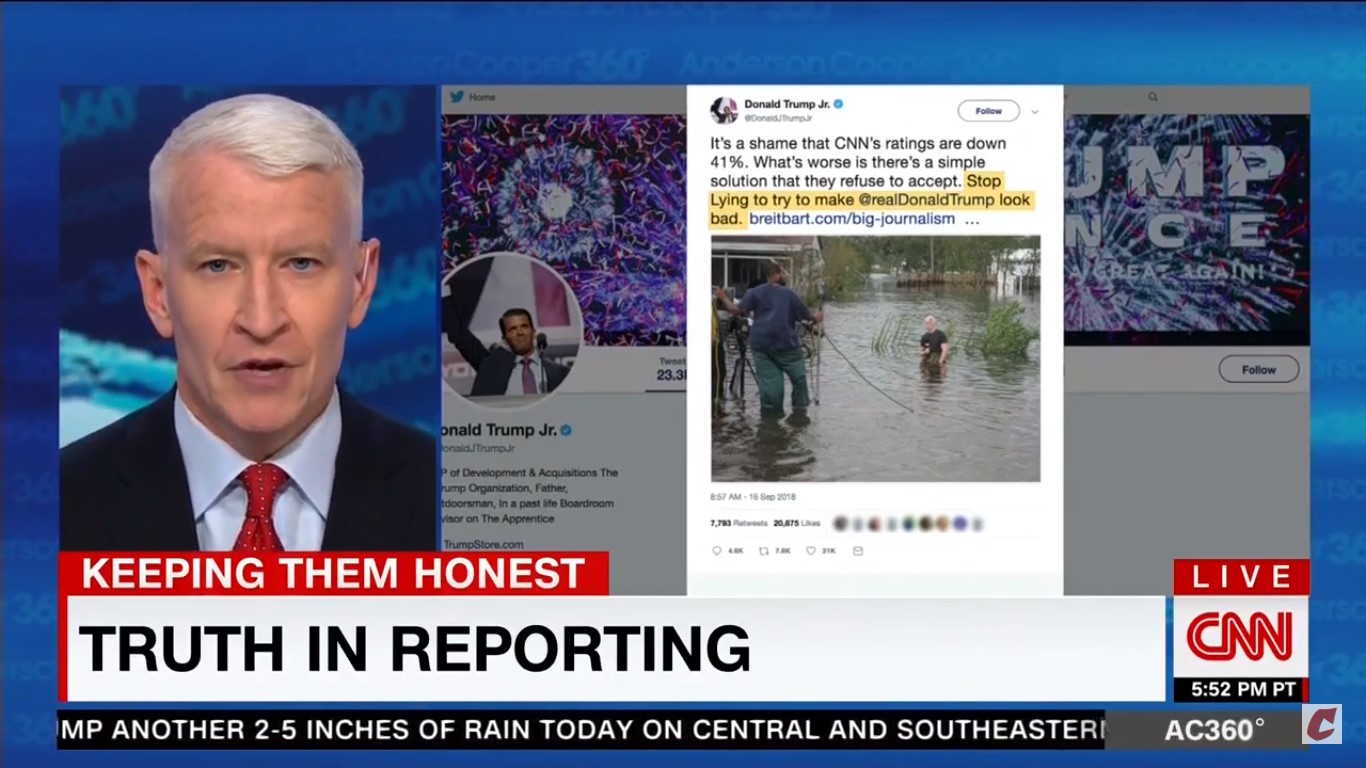 Over the weekend, Donald Trump Jr. and a host of other prominent conservatives and MAGAts shared photos of CNN anchor Anderson Cooper standing waist-deep in floodwaters while his camera crew stood a few feet away in water that was only ankle deep. With the Weather Channels' Mike Seidel already accused of over-dramatizing the winds of Hurricane Florence during a live shot, the implication was that Cooper was also misleading viewers of the impact of the storm.
Of course, the memes themselves were completely deceptive and lacking proper context as the photos were from CNN's coverage of Hurricane Ike in 2008. Also, during Cooper's live shots of him standing in water back then, he specifically pointed out to viewers that the surrounding floodwater greatly varied in depth within short distances and could present extreme danger to anyone trying to navigate the area.
At the end of Anderson Cooper 360 this evening, Cooper decided to address the idiotic controversy. pointing out that this is usually not his style.
"I rarely respond to online conspiracy theorists or cable news cranks looking to get into a mutually beneficial beef that will boost their ratings," Cooper stated. "I try not to argue with other TV anchors, and I usually let conspiracy theories go unanswered."
However, in this case, he felt the need to set the record straight, especially since the presidential son had tweeted out the picture to claim Cooper was "faking the depth of floodwaters to somehow harm his father."
"Anyway, I've covered hurricanes for about 14 years and it really does make me sad to think that anyone would believe that I would try to fake something or overly dramatize a disaster," a clearly incensed Cooper said. "I debated whether I should even respond to the president's son."
He continued, "I know he believes himself to be an outdoorsman and likes to go to Africa and kill animals, but I don't know if he's ever been to a flood. I didn't see him down in North Carolina in the last few days, but I'm sure he was doing something important besides just tweeting lies."
The CNN anchor then spent the next few minutes going into great detail about his Hurricane Ike coverage and how he wasn't misinforming viewers about the water depth or impact of the storm. He ended his segment by pointing out that one of the cameramen that was shown in the tweeted pics actually passed away a year ago.
Watch the clip above, via CNN.