Trump Jr, Conservative Twitter Share Misleading Photos To Accuse CNN Of Faking Hurricane Coverage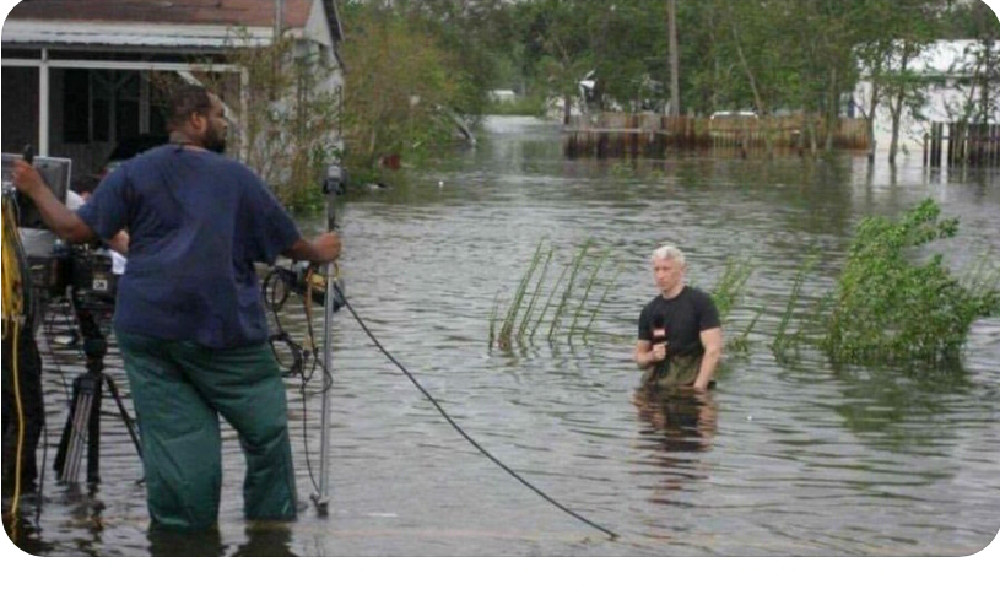 Following last week's viral video of the Weather Channel's Mike Seidel 'struggling' against hurricane winds while a couple of individuals walked nonchalantly in the background, images of CNN's Anderson Cooper standing waist-deep in floodwaters while his crew stood nearby in water only ankle-deep began to spread on the internet. The accusation, of course, was that Cooper was misleading viewers by exaggerating the depth of the water for dramatic purposes.
Cooper, however, wasn't the one who was being misleading — the images themselves were deceptive. But that didn't stop a bunch of prominent conservatives — including the president's eldest son — from spreading this hoax like wildfire.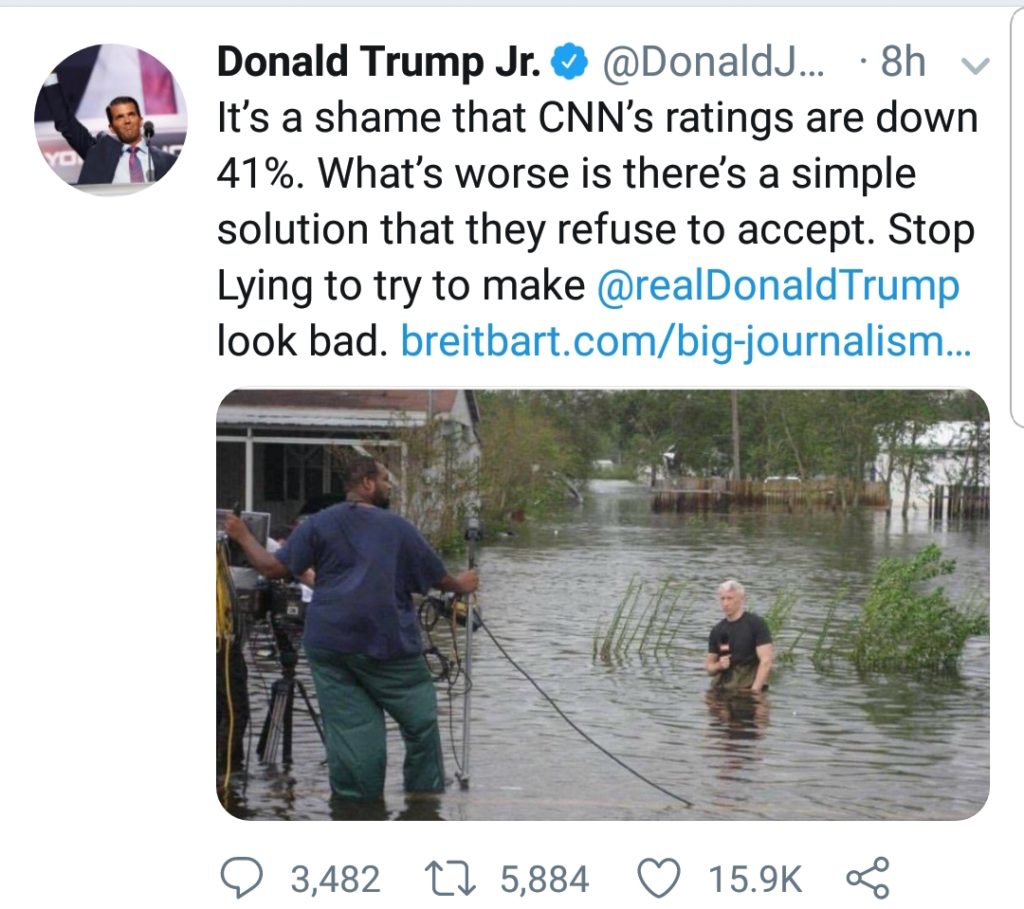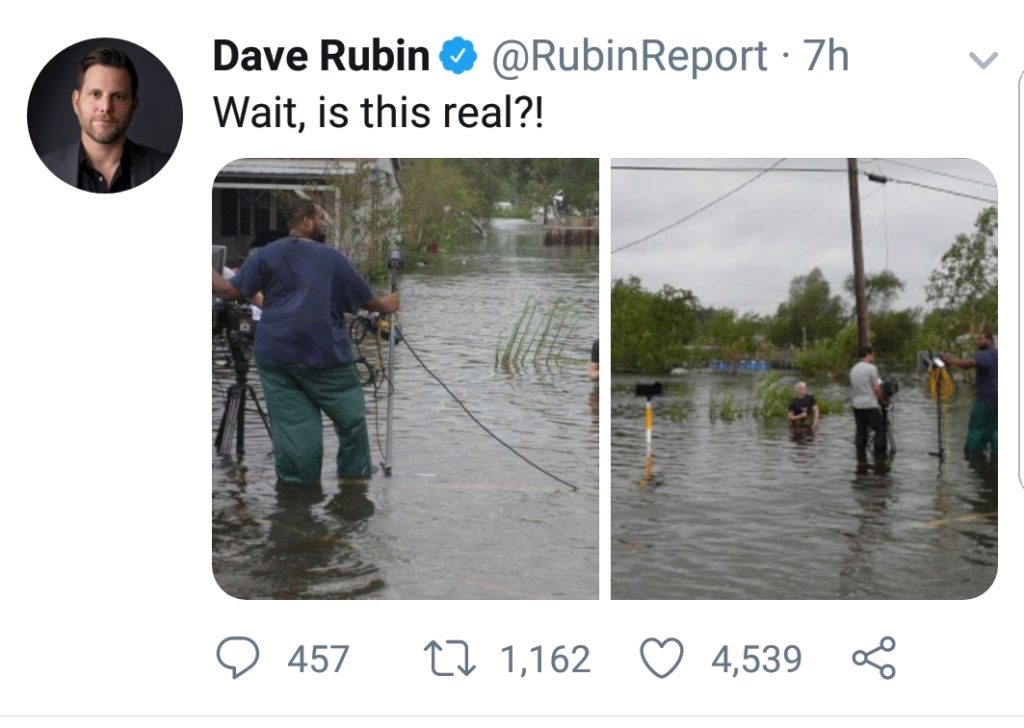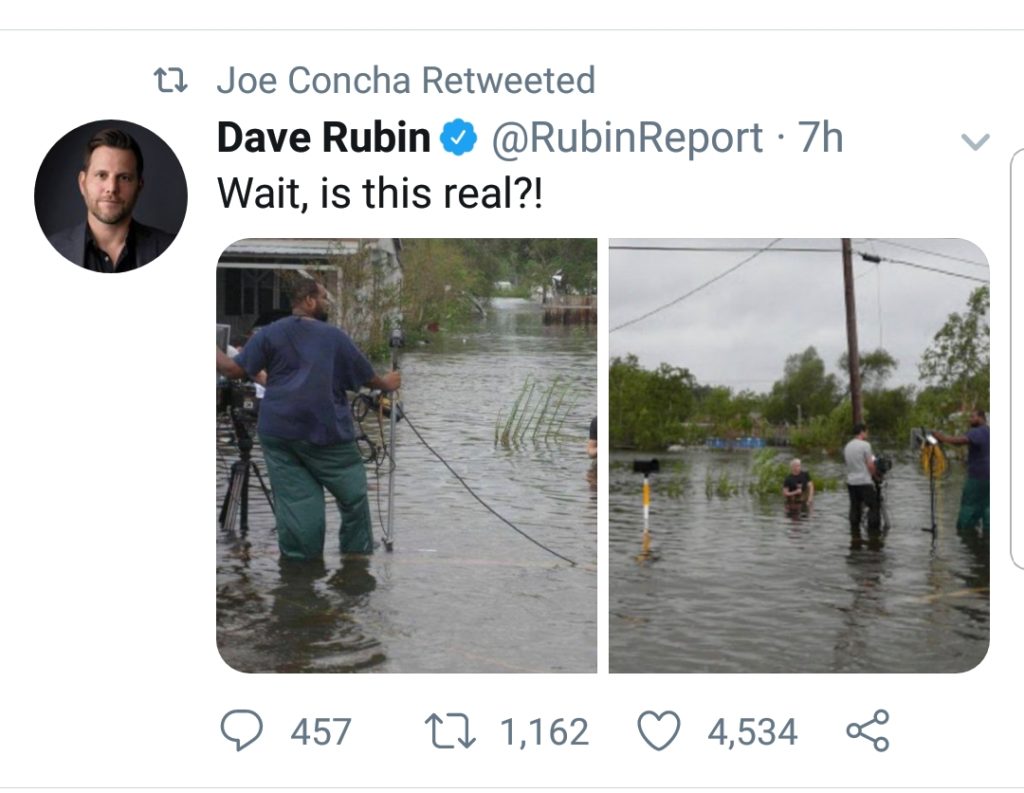 As you can see in the screencapped tweets above, Donald Trump Jr. accused CNN of lying in order to make his father look bad when it came to Hurricane Florence. Meanwhile, Intellectual Dark Web members Joe Rogan and Dave Rubin tweeted out the images, with Rubin asking if this was real while Rogan said this was the reason nobody trusts the media. Media critic and Hill columnist Joe Concha would retweet Rubin.
Fox News chief White House correspondent John Roberts also tweeted out the image but quickly deleted it. Why? Well…
"Uh……"@johnrobertsFox deleted this tweet. Wonder why?https://t.co/KR88e6QP1c pic.twitter.com/T2YGPmNSCv

— Jeff Albertson (@Jeff_Albertson) September 16, 2018
The truth of the matter is that the photos come from dispatches Cooper made from Hurricane Ike in 2008, not from recent Florence coverage. And as Snopes highlighted, "various available clips of the program document that the waters in the immediately surrounding area were both fairly deep and quite variable. As Anderson noted during that broadcast, his taking two steps backwards from where he was standing would have caused him to sink in neck-deep water."
After Trump Jr. and others used the misleading images to slam the network, CNN PR guy Matt Dornic pushed back, asking the presidential son if he was going to tell his followers the images were old and that it had nothing to do with his father.
Cool pic. Why don't you tell your followers it's ten years old? Has absolutely nothing to do with coverage of your dad. And it demonstrates the dangers of driving in flooded areas – a few inches to feet without warning, which has resulted in many deaths. Who's misleading who?

— Matt Dornic (@mdornic) September 16, 2018
Dornic also went after conservative commentator Mark Dice over his tweet of the misleading image.
Nice try, champ. Few things.

1) Your pics are ten years old.
2) They demonstrate the dangers of driving in flooded areas – inches to feet without warning.
3) You're awfully obsessed w AC's sexuality. Let me know if u need to talk. #itgetsbetter

— Matt Dornic (@mdornic) September 16, 2018
To the shock of no one, at the time of publication, Trump Jr. has neither taken down the tweet or followed up with a clarification. Like father, like son.