Maddow Dominates In The Demo On Monday Night, Hannity Edges Her Out In Total Viewers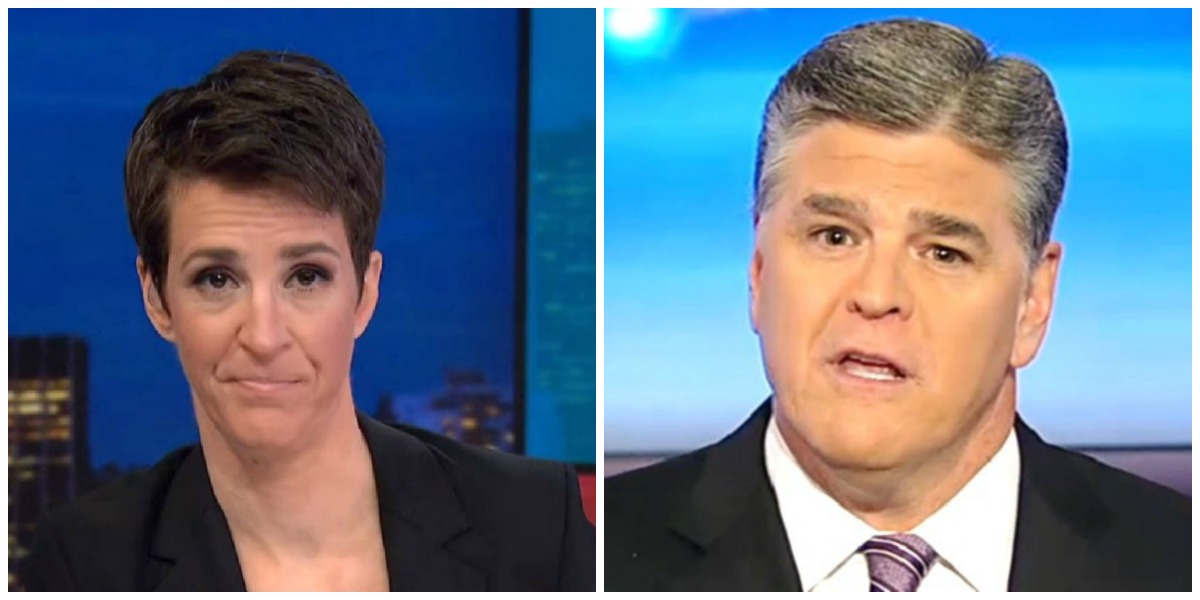 MSNBC's The Rachel Maddow Show saw its nearly weeklong streak as the most-watched cable news show broken on Monday night — but just barely.
According to Nielsen, Fox News' Hannity — Maddow's 9 PM competitor — led cable news in total viewership with 3.283 million, bringing in just three thousand more total viewers than Maddow (3.280 million). The MSNBC program, however, easily topped cable news in the key 25-54 demographic (648,000) as Hannity finished a fairly distant second (526,000).
In the 8 PM to 11 PM primetime hours, Fox News led across the board with 2.849 million viewers overall and 492,000 in the 25-54 demo. MSNBC placed second in both metrics, averaging 487,000 demo viewers and a total audience of 2.598 million. CNN nabbed 1.362 million total viewers and 437,000 in the demographic.
In daytime (9 AM to 5 PM), Fox pulled in 1.310 million total viewers and 251,000 in the demographic to lead in both metrics. CNN averaged 228,000 demo viewers and a total audience of 883,000. MSNBC attracted 1.105 million viewers overall and 170,000 in the key demo.
Fox's Tucker Carlson Tonight finished third overall in total viewers (2.739 million) and the key demo (519,000). FNC's The Ingraham Angle placed fourth in total viewership (2.521 million) and sixth in the demographic (432,000). MSNBC's The Last Word took fifth place in both the demo (453,000) and total audience (2.441 million).
Besides leading CNN in total viewers with 1.427 million, Cuomo Prime Time also finished fourth overall in the key demo with 472,000.