Hannity Most-Watched Cable News Show Monday, Maddow Finishes Second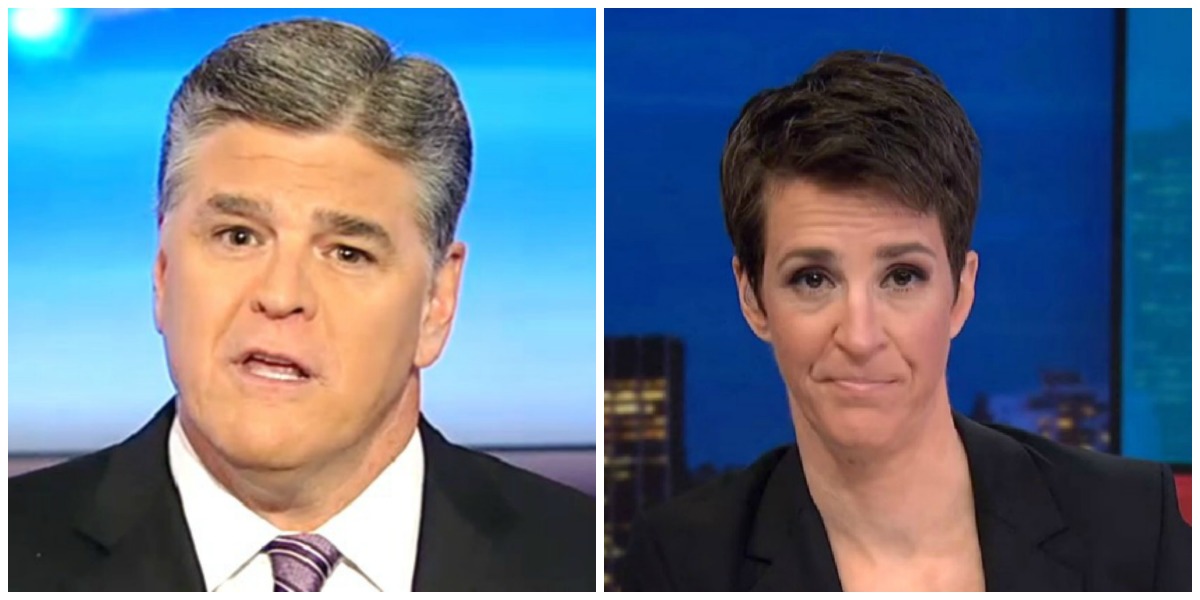 Fox News' Sean Hannity and Tucker Carlson were back in their hosts' chairs on Monday and it resulted in Fox News comfortably leading across the board in primetime. Also, after suffering a tenth-place demo finish on Friday, Fox's The Ingraham Angle saw a bounceback on Monday night, finishing in the top five overall in both total viewers and the key 25-54 demographic.
According to Nielsen, Fox News averaged 546,000 demo viewers and a total audience of 2.891 million during the 8 PM to 11 PM primetime hours. MSNBC pulled in 2.379 million total viewers and 426,000 in the key demo. CNN attracted 1.122 million viewers overall and 353,000 in the demographic.
In total day, Fox nabbed a total viewership of 1.532 million and 294,000 in the 25-54 demo. MSNBC drew 1.149 million viewers overall and 202,000 in the demographic. CNN averaged 203,000 demo viewers and 670,000 total viewers.
Hannity was the most-watched show in cable news in both total viewership (3.260 million) and the key demo (619,000). MSNBC's The Rachel Maddow Show — Hannity's 9 PM competitor — placed second in both metrics, capturing 563,000 demo viewers and a total audience of 2.972 million. Tucker Carlson Tonight finished third in the demo (541,000) and overall viewers (2.801 million).
At 10 PM, Ingraham attracted 2.609 million viewers overall and 479,000 in the key demo, leading its timeslot and placing fourth overall in both metrics.
The top-rated CNN program was Cuomo Prime Time, which drew 1.134 million total viewers. The 10 PM broadcast of CNN Tonight led in the demo with 363,000.
Meanwhile, the weekly ratings also came in Tuesday and Fox Business marked its 26th straight week as the most-watched business network. In business day, FBN averaged 188,000 total viewers compared to CNBC's 158,000 while in market hours, Fox Biz nabbed 193,000 viewers overall as CNBC drew 162,000.