Hannity Top-Rated Cable News Show Thursday, Maddow Places Second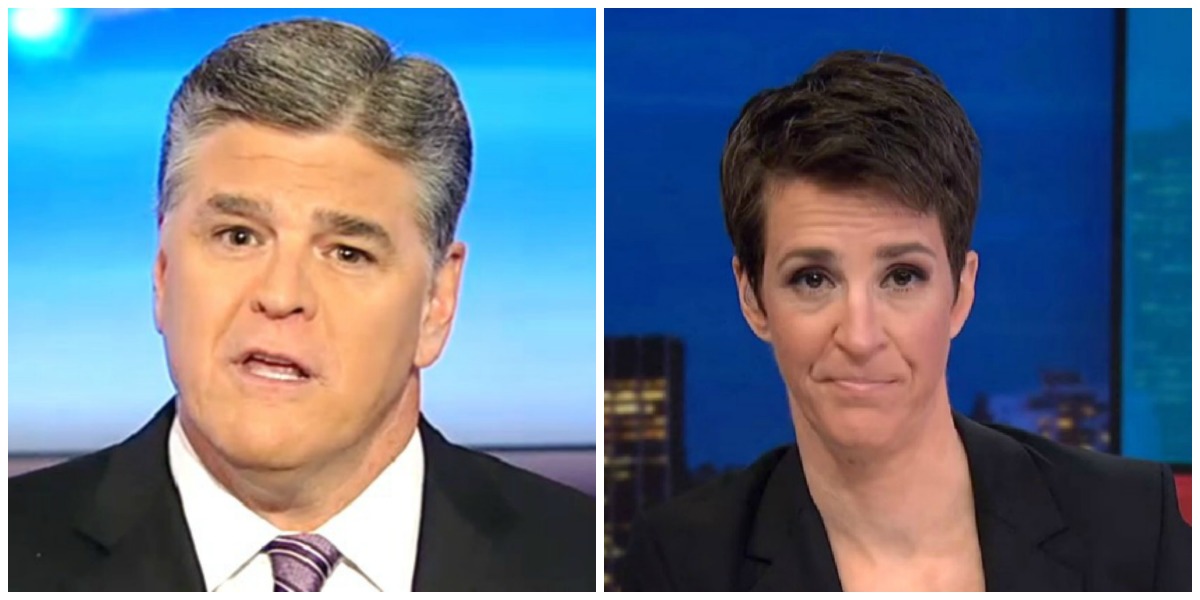 After ceding the top spot to MSNBC's The Rachel Maddow Show on Wednesday, Fox News' Hannity was back as the most-watched cable news program Thursday, leading in both the key 25-54 demographic and total viewers. Maddow, meanwhile, finished second in both metrics. Fox News once again led across the board in total davy and primetime viewership.
According to Nielsen, Fox News averaged 490,000 demo viewers and 2.516 million viewers overall during the 8 PM to 11 PM primetime hours. MSNBC drew a total audience of 2.154 million and 407,000 in the key demographic. CNN pulled in 1.263 million total viewers and 399,000 in the demo.
In total day, Fox attracted 251,000 demo viewers and 1.329 million viewers overall. MSNBC averaged 1.106 million total viewers and 200,000 in the key demo. CNN nabbed a total viewership of 663,000 and 196,000 in the demographic.
Hannity attracted a total viewership of 2.727 million and 526,000 in the 25-54 demo. Maddow, which faces Hannity head-to-head at 9 PM, captured a demo audience of 500,000 and 2.556 million viewers overall. Fox News' The Ingraham Angle, which featured host Laura Ingraham addressing her Wednesday night "massive demographic changes" monologue that resulted in a firestorm of controversy, finished third in the demo (491,000) and fourth in total viewers (2.387 million).
The top-rated CNN program was the 10 PM broadcast of CNN tonight, which pulled in 1.316 million total viewers. Cuomo Prime Time led in the demo with 410,000.