Anthony Scaramucci Blasts Laura Ingraham Over Immigration Rhetoric: 'It's Un-American'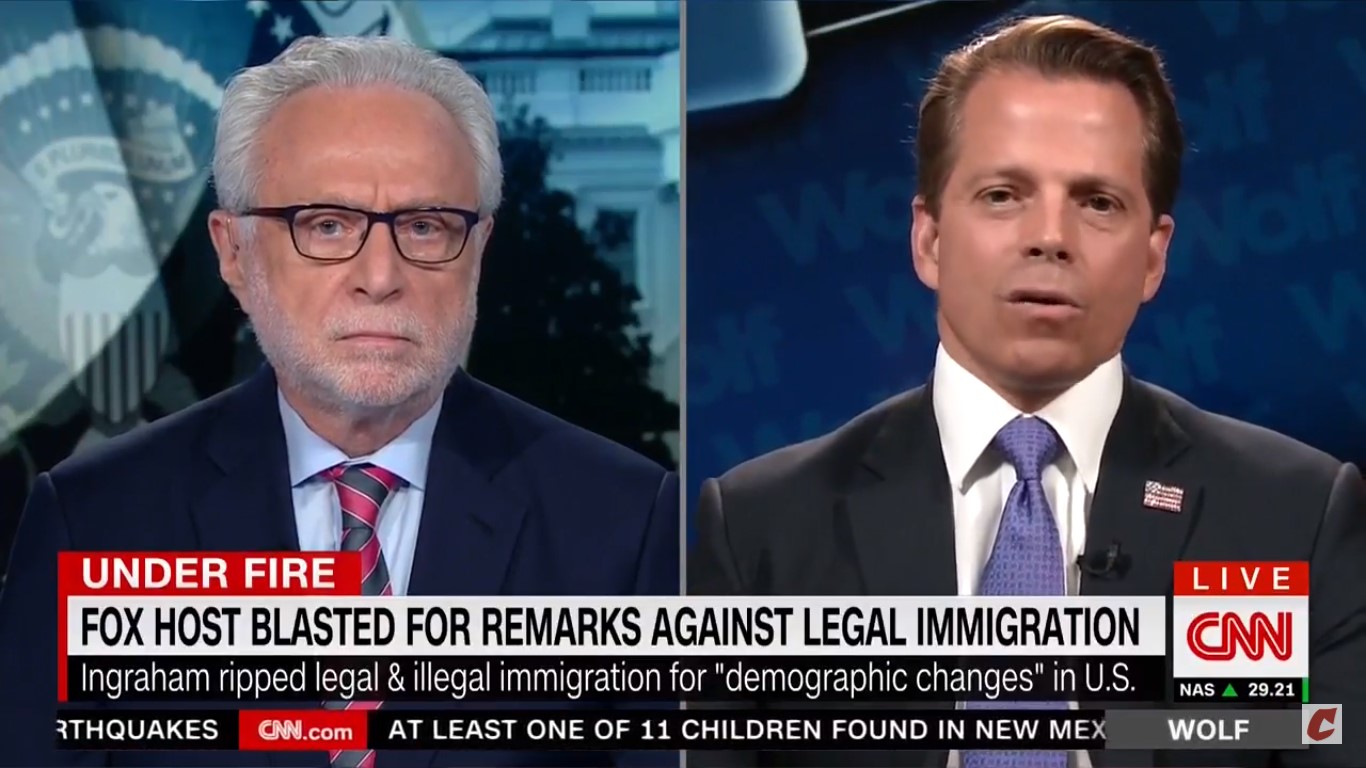 During her opening monologue Wednesday night, Fox News' Laura Ingraham said that it seems "like the America that we know and love doesn't exist anymore," citing illegal and legal immigration that has caused "massive demographic changes" that no one voted for and "most of us don't like." The conservative commentator immediately came under fire for the comments, with many claiming she was echoing white nationalist rhetoric.
The Trump-boosing host is now facing heat from those within Team MAGA. Appearing on CNN Thursday, former White House communications director Anthony Scaramucci criticized Ingraham for her remarks and expressed hope that she would walk them back, all while insisting that those ideals are not in line with the president's base. (Yeah K.)
"You know, I'm super not happy with that," Scaramucci told anchor Wolf Blitzer when asked for his reaction. "I like her as a person, but if you remember Father Charles Coughlin in the 1930s — my grandparents certainly remember him — it's the same rhetoric. It's the same sentence structure."
Coughlin used his radio program in the 1930s to spread anti-Semitism and hardcore nativism while pushing for isolationism.
Mooch continued, "It's the same level of xenophobia that my immigrant grandparents faced as Italian-Americans a short 70, 80 years ago. I'm not in love with it. I love the concept of America, the idea of the experiment of our great republic. We really are the last best hope for mankind."
After Scaramucci said he hopes Ingraham walks back her comments and realizes how wrong those remarks are, Blitzer wondered aloud if that rhetoric revs up the base that supported the president.
"I sort of disagree about that," Scaramucci responded before promoting his upcoming book about Trump being a blue-collar president and appealing to middle America.
"The identification that these people have with the president, they're not nativists," he stated. "They're not xenophobes. It's a very small population of those people that are like that. if anything, each of these people have an immigration story, and they just want what we all want in the United States, an aspirational economy and an aspirational opportunity for their children."
He then took a pretty pointed shot at Ingraham.
"So it may tweak and it may get a lot of media attention for a small group of people, Wolf, but I really think it's un-American," Scaramucci declared. "By and large, most Americans are great people and they don't like that sort of nonsense."
Watch the clip above, via CNN.