Fox Anchor Bill Hemmer Asks White House Staffer Mercedes Schlapp: 'Are You Tired Of Winning?'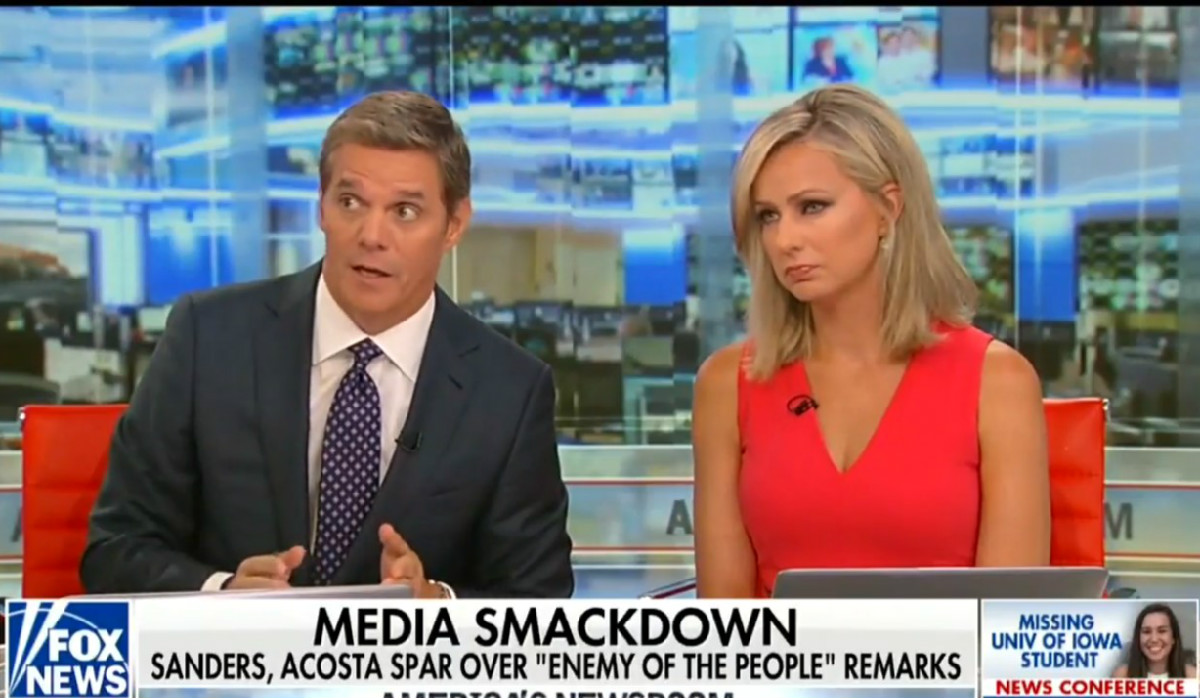 Towards the end of a sympathetic interview with White House Director of Strategic Communications Mercedes Schlapp, America's Newsroom anchor Bill Hemmer provided some words of advice to Schlapp on how the Trump administration can handle its combative relationship with the media. And, oh yeah, he also wanted to know if she was tired of all the winning.
Asked by co-anchor Sandra Smith about the exchange between press secretary Sarah Sanders and CNN's Jim Acosta when Acosta walked out of the presser after Sanders refused to say the media wasn't the "enemy of the people." In Schlapp's view, the real issue is "fake news."
"Fake news is dangerous," the White House aide responded. "We know for a fact that many of these so-called news reporters go out there have a complete disdain for President Trump. It is no wonder we've seen that 90 percent of the media coverage for President Trump has been negative."
Schlapp went on to seemingly reference a false right-wing smear that ABC News' Martha Raddatz cried on air over Trump's election before saying the president needs to "defend himself."
"The president and those of us in the administration who have been blamed and have been called names by journalists," she declared. "We really want to be able to talk about the president's winning message. It is very hard when you have reporters who prefer to see themselves on camera all the time and many of the liberal media who have complete disdain for this president and refuse to acknowledge any of the positive work he is doing."
So how did Hemmer and Smith react to Schlapp defending Sanders' refusal to say the press isn't the public's enemy by ranting about the liberal media being fake news? Hemmer, one of Fox's "straight news" anchors, said the following:
"I don't think you should be defensive about this. You need to go on offense. And I know that's a big part of why you came on today."
He added that they were going to take it up with their media panel later while mentioning it "was quite a thing watching that and seeing Sarah Sanders' reaction" because "she felt it."
The interview, which had largely been about pushing the president's economic and immigration messages, was then wrapped up with a friendly little exchange.
.@mercedesschlapp: "The wall is shown to work." pic.twitter.com/SACVc49EKc

— Fox News (@FoxNews) August 3, 2018
"I hope you come back," Hemmer, who has been rumored to be in the running for Sanders' job if she steps down, said. "Are you tired of winning?"
"No, not at all," a laughing Schlapp replied. "I'm more tired dealing with my kids these days than winning over here."
Watch the clip above, via Fox News.